Cabo Bermejo is the ultimate expression of luxury beachfront living. Located in Estepona's New Golden Mile, this Melvin Villarroel designed development, comprising lavish penthouses and two and three-bedroom apartments, looks over the glistening Mediterranean and is surrounded by 28,000m2 of carefully manicured, sub-tropical gardens. Peace and tranquility abound, owing to the lush natural landscape. Safety, meanwhile, is guaranteed by a 24-hour security service and a sophisticated camera system.
Over the years, we have garnered extensive experience in the sale of properties within this exquisite urbanization. To facilitate your acquaintance with the development, we've meticulously compiled this comprehensive guide:
What is Cabo Bermejo?
Cabo Bermejo in Estepona represents the pinnacle of luxury beachfront living. Overlooking the Mediterranean sea, this 5-star complex, boasts exquisite penthouses and spacious apartments. Set amidst 28,000m2 of pristine sub-tropical gardens, residents revel in tranquility and safety, ensured by round-the-clock security and a state-of-the-art camera system.
The community's vibrancy comes from its luminous homes and verdant communal spaces, with two outdoor pools, exclusive beach access, gyms, and sauna accentuating the opulence. Its prime location, a mere 10-minute drive from Estepona's vibrant center, offers access to top schools, shopping centers, and cultural attractions. Additionally, its proximity to five major golf courses underscores its appeal. Cabo Bermejo is a harmonious blend of luxury, nature, and convenience.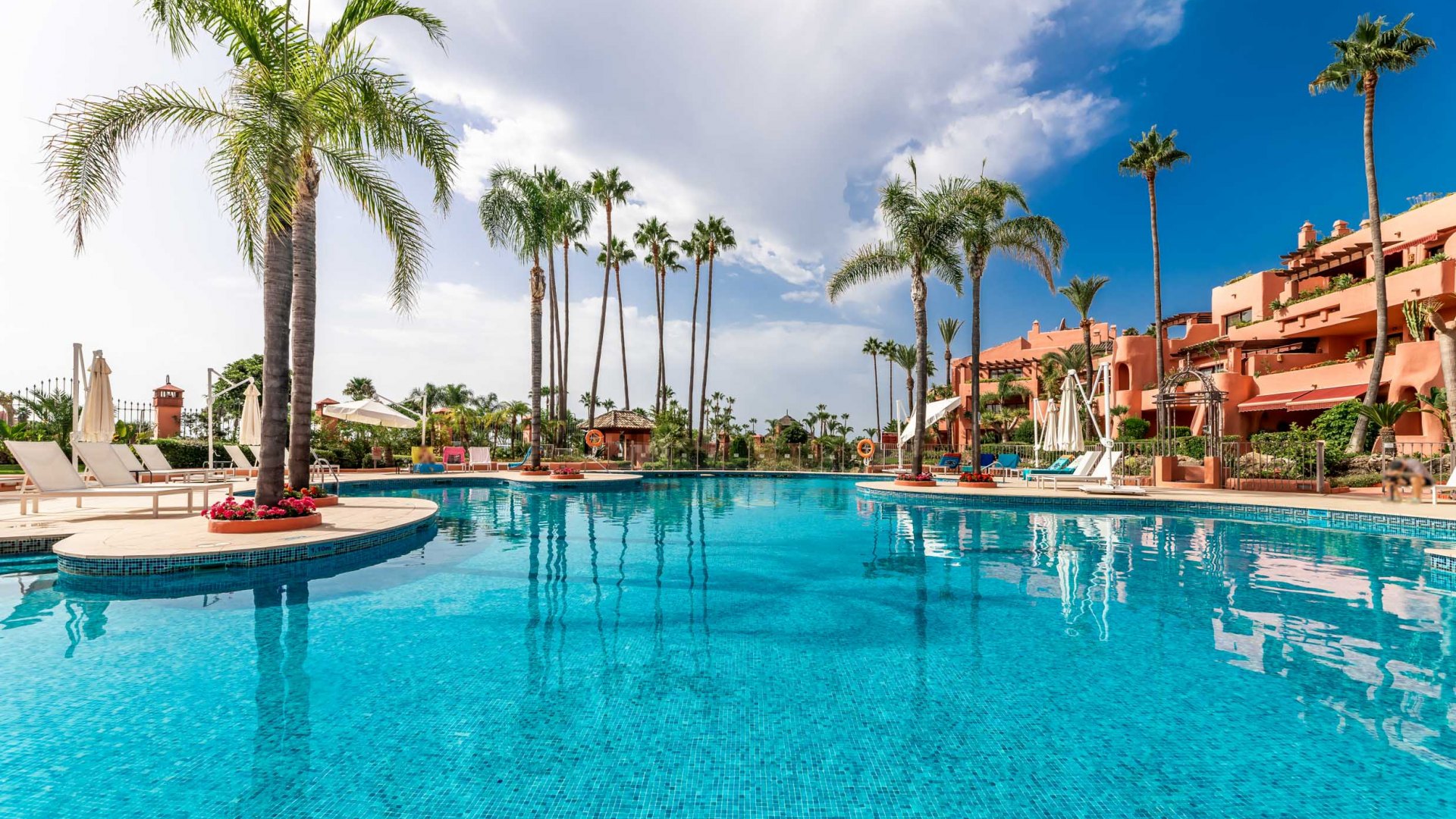 What is the history of Cabo Bermejo?
Cabo Bermejo was built in 2001. Promoted by Vagn Trend Poulsen and designed by architect Melvin Villaroel, giving Cabo Bermejo a characteristic Andalusian style architecture on the outside and a sleek modern design on the inside.
Cabo Bermejo was the first high-end development on the New Golden Mile, this being the only one of its kind. And it would mark a new era in the history of the New Golden Mile.
Where is Cabo Bermejo?
Cabo Bermejo is located in the heart of the New Golden Mile at Guadalmansa urbanization, right between the town of Estepona and San Pedro.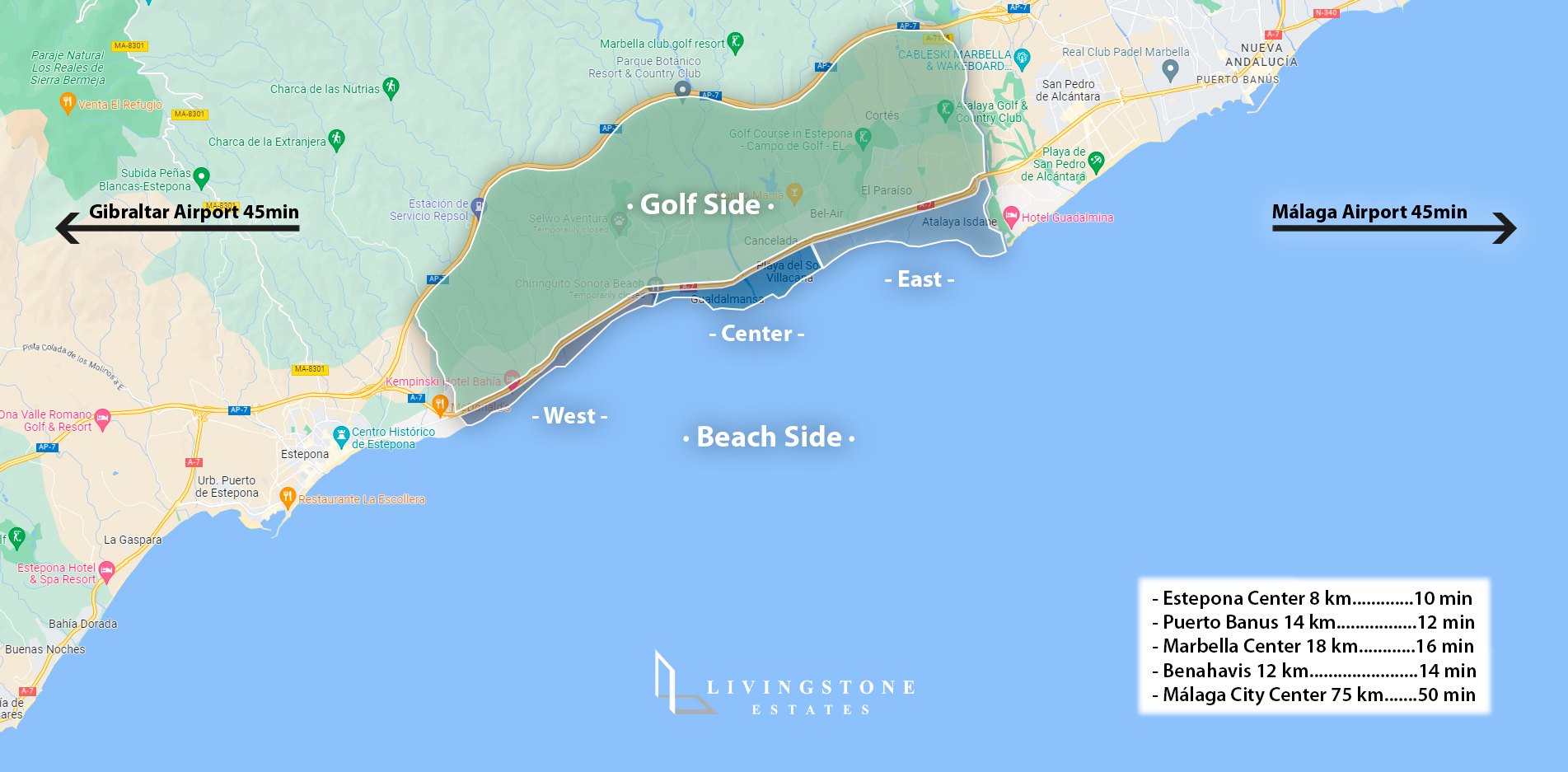 Some estimated distances from Cabo Bermejo to other useful locations:
Estepona city center 8km (10min)
Benahavis 12km (14min)
Marbella city center 18km (16min)
Puerto Banus 14km (12min)
Gibraltar Airport 55km (45min)
Malaga Airport 70km (45min)
Malaga city center 75km (50min)
As previously mentioned, Cabo Bermejo is nestled along the New Golden Mile, a prestigious coastal stretch of the Costa del Sol in southern Spain. This stretch extends west from San Pedro de Alcántara's western boundary to the picturesque town of Estepona. For a deeper understanding of the New Golden Mile, refer to our comprehensive guide.
What size is Cabo Bermejo?
Cabo Bermejo sits on a plot of 26,000 square meters facing the sea. It consists of 23 blocks of apartments, 2 outdoor swimming pools, large common areas and impressive tropical gardens. The 23 blocks make up a total of 115 exclusive homes, the majority of them enjoy sea views.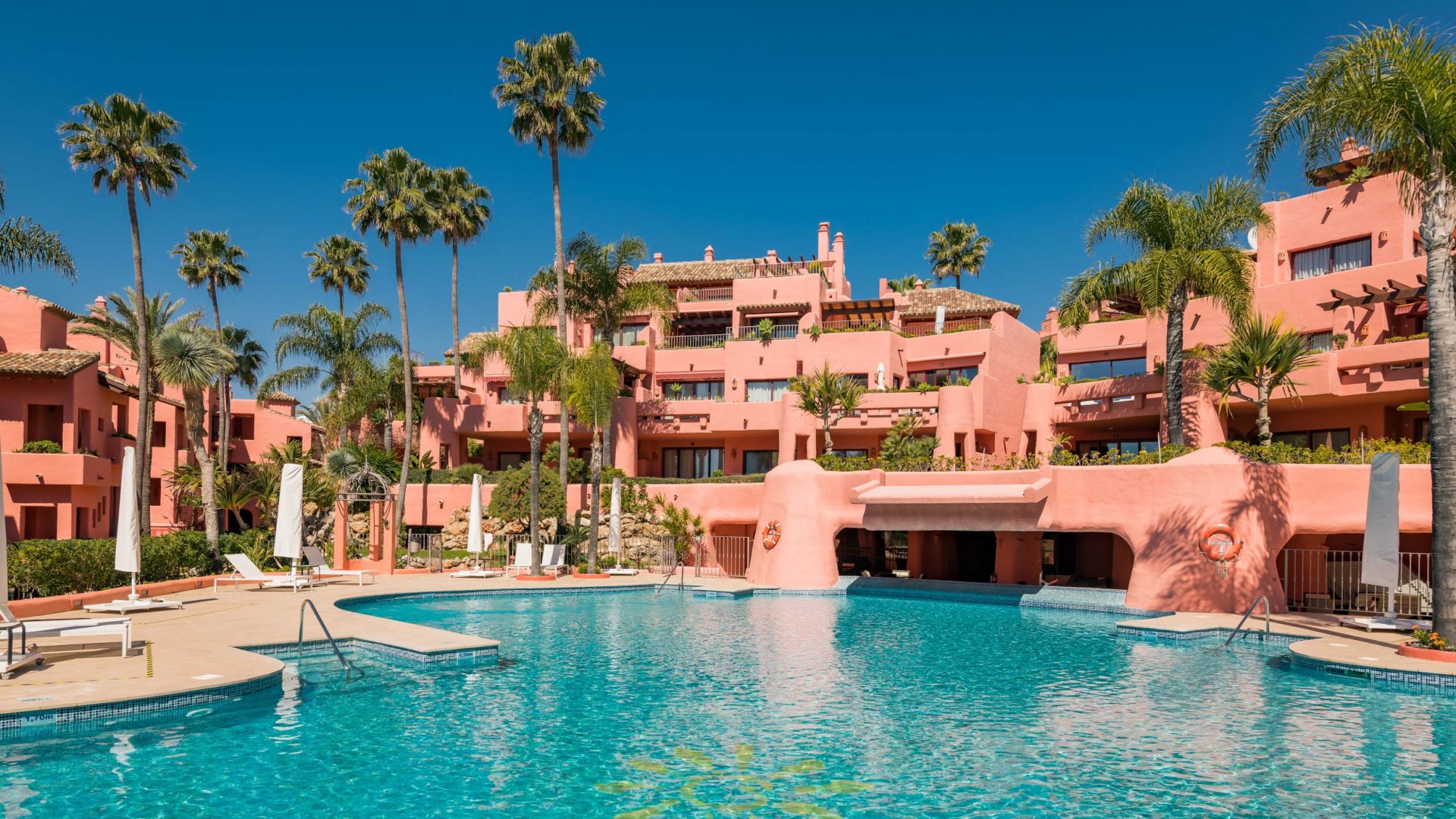 What types of apartments are there in Cabo Bermejo?
2 Bedrooms Apartments
Make the most of indoor and outdoor home life in these beautifully designed apartments, measuring approximately 127 square meters and boasting a terrace of around 45 square meters. Enjoy beautiful views of the sea and the gardens, or a fabulous family meal on the terrace, while availing of nearly perfect weather, all year round. Ideal for a couple or small family, these apartments have two spacious double bedrooms, each with ceiling-to-floor glass doors and direct access to terrace space.
The master bedroom boasts its own ensuite bathroom, and there is a second bathroom for general use; both boast quality marble and tiling features. The kitchen is ideal for preparing a gourmet meal for the family. Quality materials in table tops and floors ensure that organization is easily achievable. The terrace, meanwhile, is spacious enough to serve as a dining, relaxation and play area. All apartments at Cabo Bermejo have their own parking and storage space.
3 Bedrooms Apartments
Measuring anywhere from approximately 160 square meters to 180 square meters and boasting three bedrooms and three bathrooms, these apartments are the perfect symbol of the exclusivity of life on the New Golden Mile, with a large living room able to accommodate a separate lounge/entertainment area, and dining area. Glass doors invite warm sunny light, and beckon dwellers out into the terrace, measuring over 117 square meters, spacious enough for all family members to be together yet enjoy their very own space.
The master bedroom boasts direct access to the covered terrace and (in some cases) to the garden and it has an ensuite bathroom fitted bearing elegant marble and tile work. The other two bedrooms (one of which has an en suite bathroom) are also large enough to accommodate drawers and other furniture, and some have features such as window seats.
The U-shaped kitchen is spacious enough for many family members to comfortably cook a meal together; fitted with top grade cabinets and benchtops, it is practical and inviting and will surely be a meeting spot for families throughout the day.
3 and 4 Bedrooms Penthouses
Living in the lofty heights of a penthouse is the perfect way to enjoy stunning views of the beach and verdant gardens. Measuring approximately 183 square meters, these homes boast an elegant entrance hall, large living room, spacious bedrooms, a fully fitted kitchen fitted with sturdy, quality benchtops, furniture and appliances, and a terrace measuring no less than 117 square meters the perfect spot to enjoy an al fresco meal, catch a few rays or simply enjoy the view while catching a great book or watching the sunset.
Even larger families will always find a little spot they can call 'their own', either on the terrace of the living room, which is spacious enough for two large sofas, a separate dining space, and even an office or study area in which to comfortably work on the computer. Some rooms have their own private terrace, while others enjoy access to the main terrace.
Bathrooms boast underfloor heating and large comfortable baths. Well-selected materials (including marble and top quality tiles in welcoming tones) and features such as two separate sinks, add a touch of practicality and ease to family life.
Cabo Bermejo Facilities.
The amenities at Cabo Bermejo are top-notch, with meticulous care given to the upkeep of all shared gardens and services. Available for the convenience of all residents, these include: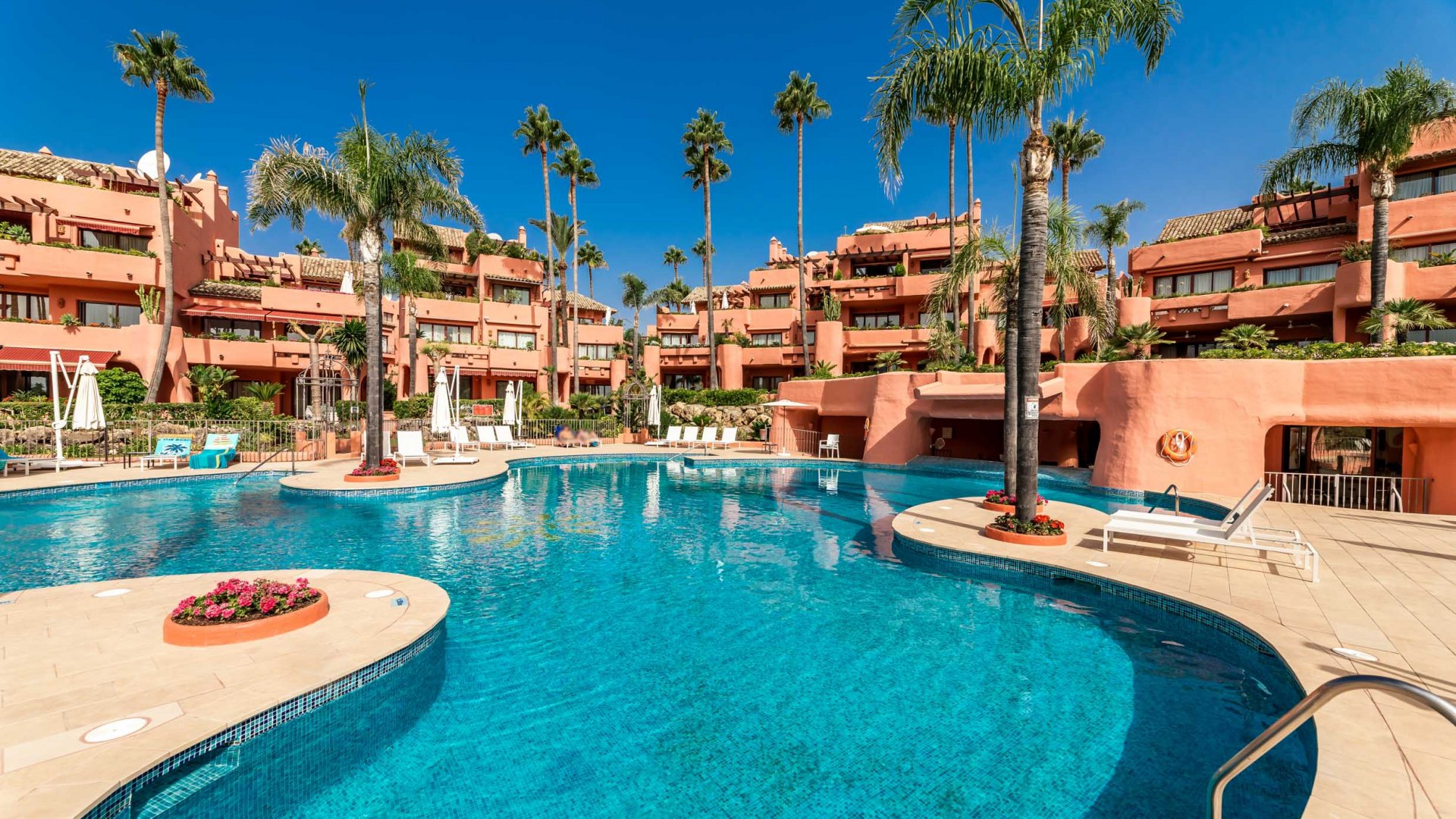 Swimming Pools.
Cabo Bermejo features pools that remain accessible throughout the year. It boasts 2 infinity pools, enriched with waterfalls and water features that create an idyllic atmosphere.
Spa & Fitness Facilities.
Two wellness areas are available all year-round, each equipped with a sauna, shower spaces, changing quarters, and 2 fully equipped gymnasiums.
Beach Restaurant.
Next to the development is the renowned Tikitano Restaurant. Tikitano offers an exquisite menu all year round in sumptuous interior surrounds during the winter months and a spending exterior terrace overlooking the sea in the summer months.
Landscaped Gardens.
The lush tropical gardens enveloping the development are maintained with great precision. At the front of the development there is a private beach so you can enjoy the sun and the beach in peace.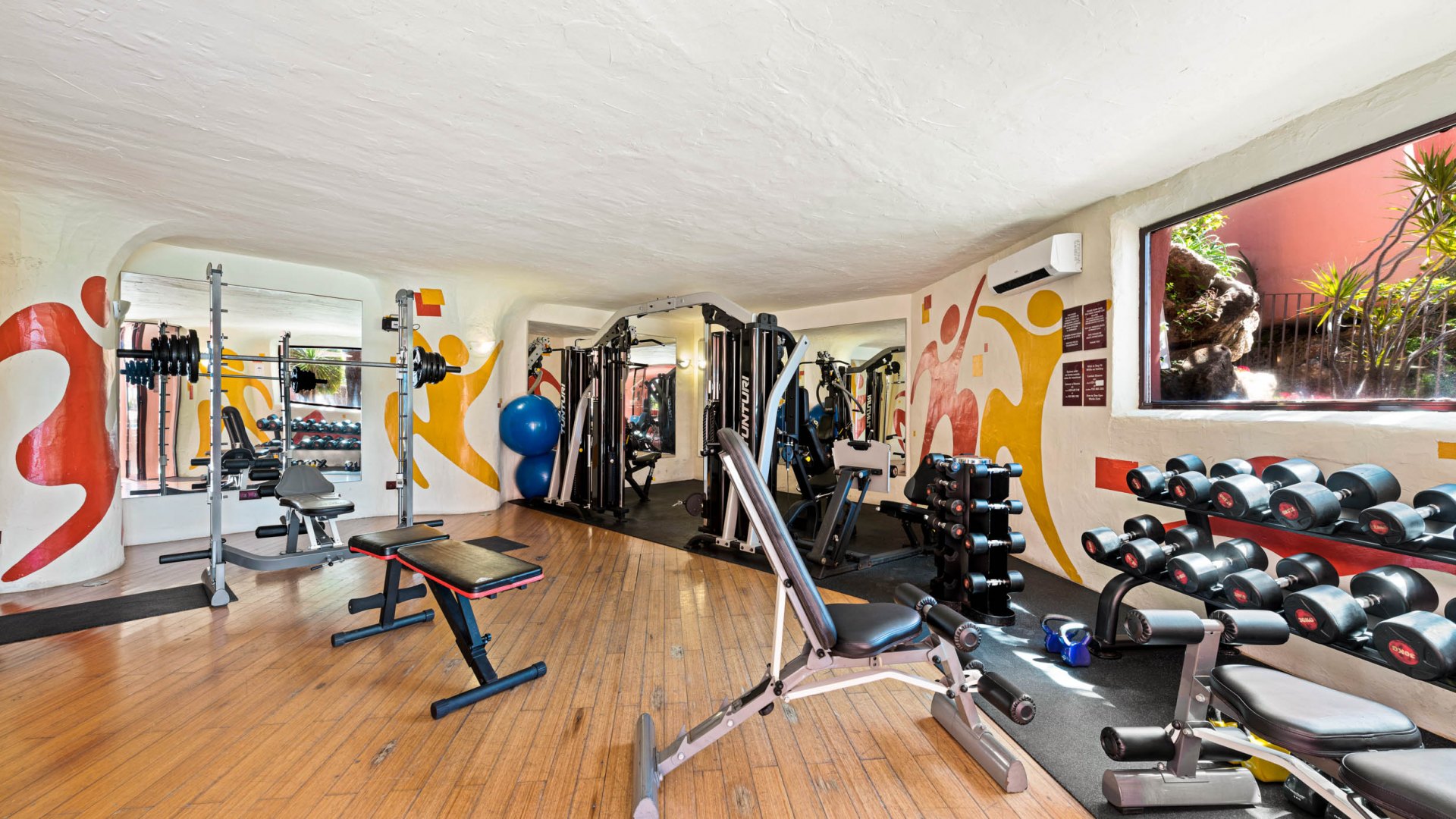 How much does it cost to buy an apartment in Cabo Bermejo?
Estimating the precise cost of purchasing an apartment in Cabo Bermejo can be intricate due to the ever-changing property market dynamics and the heightened demand for residences in this particular development.
Prices can shift based on various factors, including the apartment's size, its view, its current state, and any recent renovations. Therefore, pinning down an exact price range for apartments in Cabo Bermejo can be a bit elusive.
Nevertheless, at Livingstone Estates, we pride ourselves on our deep understanding of the Cabo Bermejo property market. With our vast experience and insights into this specific area, we can offer the most current data and guide you efficiently, ensuring you're well-equipped to make a sound investment decision.
If you are considering purchasing an apartment in Cabo Bermejo and need detailed information about current prices and available properties, please do not hesitate to contact us at Livingstone Estates.
We are more than ready to assist you in finding the perfect home that aligns with your budget and lifestyle preferences while ensuring a seamless and enjoyable property buying experience.
Are you allowed to renovate your apartment in Cabo Bermejo?
Yes, you can undertake renovations for your apartment in Cabo Bermejo. However, it's essential to adhere to specific community guidelines to preserve the overall look and structural harmony of the complex.
At Livingstone Estates, we're well-versed with these stipulations and can guide you through your refurbishment endeavors. From the initial concept to the final touches, we're here to ensure your revamped apartment aligns with the Cabo Bermejo community's standards and aesthetics. With our expertise, your renovation journey will be both effortless and fulfilling.
How long does it take to obtain a renovation license in Cabo Bermejo?
Securing renovations in Cabo Bermejo, like other parts of Spain, necessitates obtaining a Minor Construction License (Licencia de Obra Menor). This essential permit must be procured before starting any renovation activities. For properties located in Cabo Bermejo, which is governed by the Estepona municipality, the application for this license should be made at the Estepona Town Hall.
After submitting all required documents and ensuring they meet the stipulated criteria, the time to receive the license can fluctuate. It might be as quick as 15 days or extend up to 3 months.
However, from our experience at Livingstone Estates, the process is typically streamlined and rarely surpasses a month. It's imperative to understand that this step is pivotal in the renovation process, guaranteeing that your renovated apartment aligns with both your vision and the necessary legal standards.
What documentation is required to obtain a Minor Construction License in Cabo Bermejo?
To obtain a Minor Construction License (Licencia de Obra Menor) in Cabo Bermejo to renovate an apartment, the following requirements must be met:
The homeowner or their legal representative must apply for the license.
The license must be requested at the Estepona Town Hall (Ayuntamiento).
The following documentation is required:

Application form from the homeowner or their legal representative.
Notarial deed copy.
CIF copy (if it is a company).
DNI / NIE / Foreigner Identification Number copy (if it is an individual).
Construction budget, broken down by items, with its measurement and price, signed by the interested party and/or competent technician.
Proof of payment of the Tax and Fee for the processing of urban licenses.
Certificate or cadastral information, or last receipt of the I.B.I.
Estimated residue evaluation sheet.
Does Cabo Bermejo have sea views?
Cabo Bermejo is a frontline beach complex. As a result, a majority of the apartments boast unobstructed views of the Mediterranean sea and Gibraltar, as well as breathtaking vistas of the Sierra Bermeja mountain range.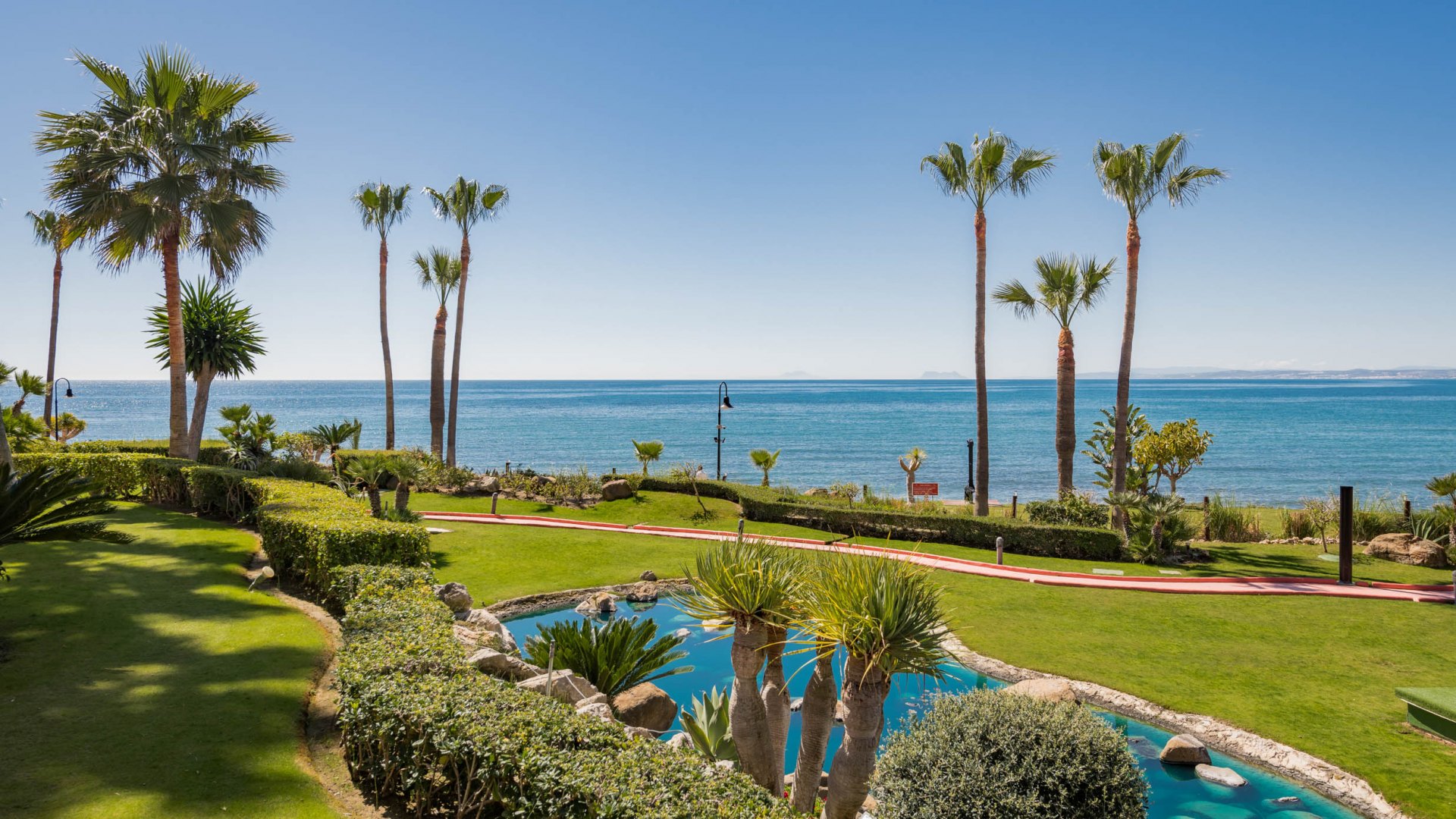 What is life like for children in Cabo Bermejo?
Life for children in Cabo Bermejo is both enriching and secure. The complex is nestled within a gated community with round-the-clock security, ensuring a safe environment for families. Its expansive gardens offer ample space for kids to play and explore, while the pristine Guadalmansa Beach is right in front of the complex.
Located conveniently between the bustling towns of Estepona and San Pedro, Cabo Bermejo residents have easy access to a wide range of amenities and services.
Moreover, the picturesque village of Benahavís, just a 20-minute drive away, offers numerous outdoor activities such as hiking, rock climbing, and natural pools. Benahavís is also renowned for its culinary delights, presenting a variety of top-notch dining options for families to enjoy.
Schools near Cabo Bermejo
Cabo Bermejo is strategically positioned for families prioritizing education. Thanks to its proximity to both the N-340 coastal road and the AP-7 toll highway, several prestigious international schools are easily accessible.
Atalaya International College, catering to students across all age groups, is a mere 10-minute drive. Colegio San José, a reputable primary institution, is just 7 minutes away by car. A 12-minute journey will take you to Laude San Pedro International College, which serves students of all age brackets.
Additionally, Aloha College and Swans International School are 16 and 20 minutes away, respectively. For those considering public education, Cancelada school is only 8 minutes away. Notably, the Atlas American School is the closest, being just a 6-minute drive from Cabo Bermejo.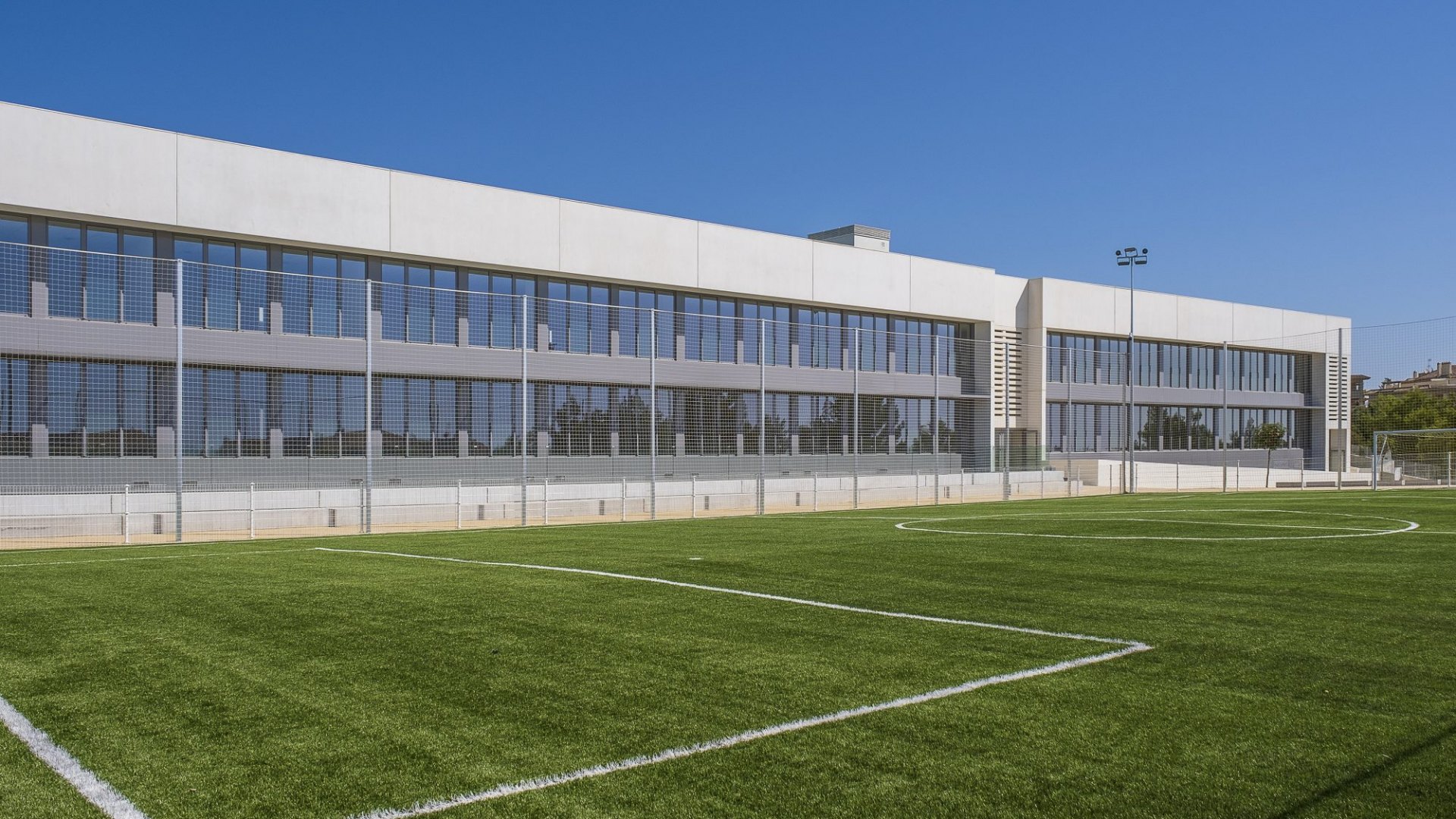 Is Cabo Bermejo safe?
Cabo Bermejo is renowned for its robust security measures. The community is nestled within a gated perimeter, bolstered by round-the-clock security and comprehensive CCTV coverage, all managed from the central security hub at the main entrance.
Both cars and pedestrian access points, as well as individual apartment entrances, are equipped with magnetic strip access controls. Furthermore, each apartment is fitted with both intrusion and fire alarms that are directly linked to the primary security office. Any visitors to the complex are required to register with security before gaining entry.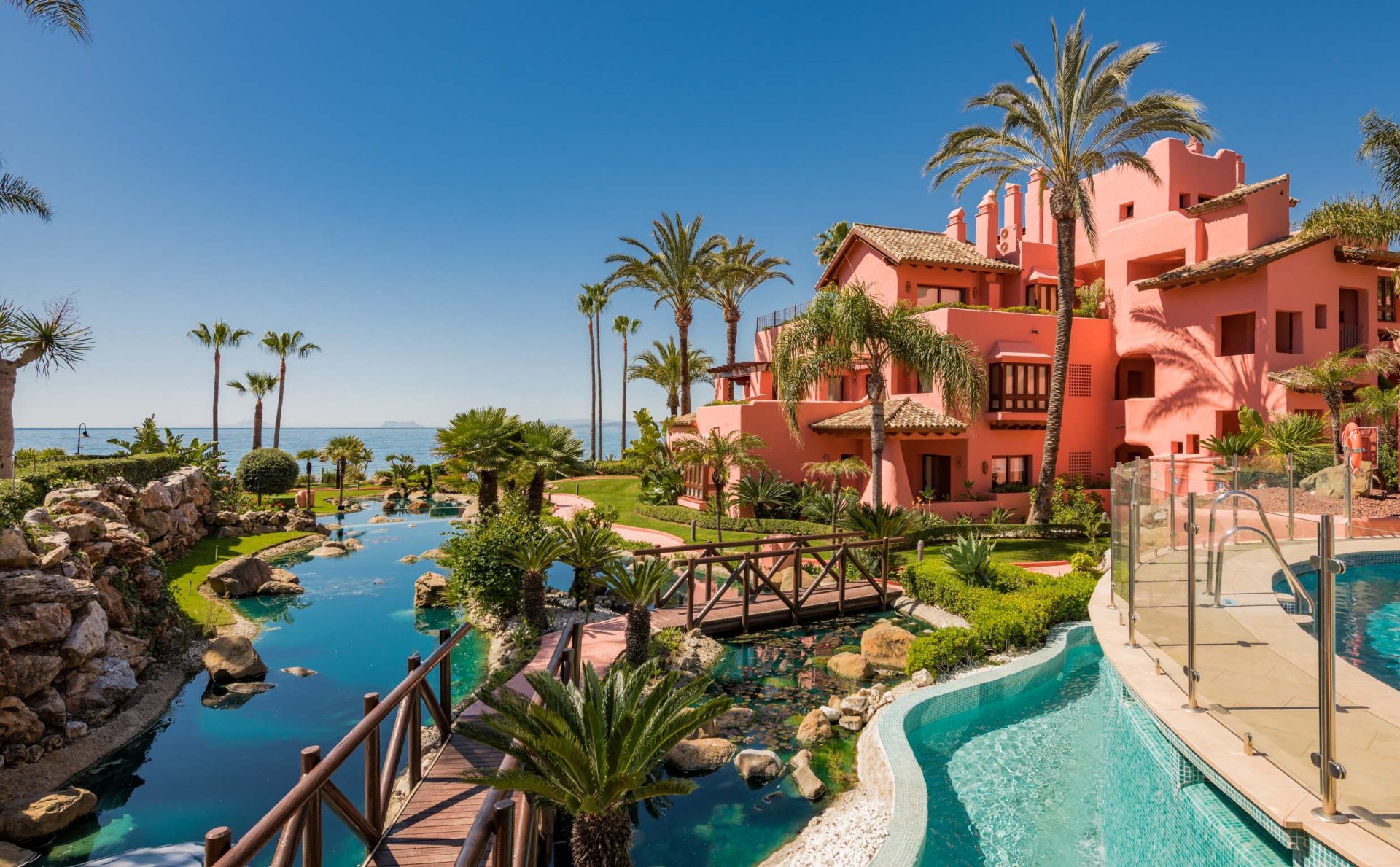 Which is the leading agency in Cabo Bermejo?
Livingstone Estates stands out as the premier real estate agency in Cabo Bermejo. With deep-rooted historical connections, a prime location, and an expansive property collection, Livingstone Estates has solidified its reputation in the region.
The agency was established by Vagn Trend Poulsen, the visionary behind the Torre Bermeja and Cabo Bermejo developments, and was initially set up to exclusively market these two prestigious projects in the early 2000s. Over the years, its impeccable service and in-depth market insights have garnered unwavering trust from both original and subsequent property owners, reinforcing its esteemed status in Cabo Bermejo.
Conveniently situated just a short 2-minute stroll from Cabo Bermejo, Livingstone Estates is perfectly positioned to offer prompt and tailored services, meeting the diverse needs of its clientele. This strategic location places the agency at the epicenter of the local property scene, allowing it to adeptly navigate and adapt to the ever-evolving real estate landscape.
Adding to its distinction, Livingstone Estates holds the most comprehensive collection of properties available for sale and rent in Cabo Bermejo, presenting a wide spectrum of choices to cater to different tastes and financial capacities. This vast property range underscores the agency's unique position, offering unparalleled options for potential buyers and renters.
In essence, Livingstone Estates is the undisputed leader in Cabo Bemejo's real estate sector, underpinned by its storied legacy, advantageous proximity, and extensive property offerings. These factors collectively make Livingstone Estates the first port of call for those exploring real estate opportunities in Cabo Bermejo.