Torre Bermeja stands as an opulent coastal project situated on Estepona's New Golden Mile.
This lavish development showcases a distinctive Andalusian aesthetic meticulously crafted by the acclaimed architect Melvin Villaroel. A true spatial design virtuoso, Villaroel has breathed life into some of Marbella's most remarkable icons, such as the Puente Romano Hotel.
Over the years, we have garnered extensive experience in the sale of properties within this exquisite urbanization. To facilitate your acquaintance with the development, we've meticulously compiled this comprehensive guide:
What is Torre Bermeja?
Torre Bermeja stands as a prestigious waterfront project nestled along the New Golden Mile of Estepona. Occupying an enviable location, this desirable community boasts captivating vistas of the Mediterranean Sea and the Sierra Bermeja mountain range, from which it draws its name.
Distinguished for its exceptional amenities, Torre Bermeja offers a suite of five-star features including around-the-clock security, dual outdoor swimming pools, a heated indoor pool, two fully-equipped gyms, a rejuvenating sauna, and the added convenience of direct beach access.
What is the history of Torre Bermeja?
Built in 2003 Torre Bermeja emerged under the promotion of Vagn Trend Poulsen and the architectural vision of Melvin Villaroel. This fusion of influences bestowed Torre Bermeja with an exterior showcasing the charm of Andalusian architecture, while the interior boasts a seamless modern aesthetic. Its interiors feature luminous and roomy spaces, adorned with gleaming marble flooring and sophisticated bathrooms.
Adjacent to the safeguarded Roman ruins of Las Torres and overseen by the Guadalmansa Tower, Torre Bermeja is intrinsically intertwined with the historical narrative of this exclusive area.
Where is Torre Bermeja?
Nestled at the core of the New Golden Mile, Torre Bermeja finds its place within the Guadalmansa urbanization, positioned between Estepona and San Pedro towns.
Here are approximate distances from Torre Bermeja to various key locations:
Estepona city center: 8km (approximately 10 minutes)
Benahavis: 12km (around 14 minutes)
Marbella city center: 18km (roughly 16 minutes)
Puerto Banus: 14km (about 12 minutes)
Gibraltar Airport: 55km (approximately 45 minutes)
Malaga Airport: 70km (around 45 minutes)
Malaga city center: 75km (roughly 50 minutes)
As previously mentioned, Torre Bermeja occupies a prime position along the exalted New Golden Mile, a prestigious coastal stretch gracing the Costa del Sol in the southern reaches of Spain. This coveted span extends westward from the edges of San Pedro de Alcántara to the charming town of Estepona.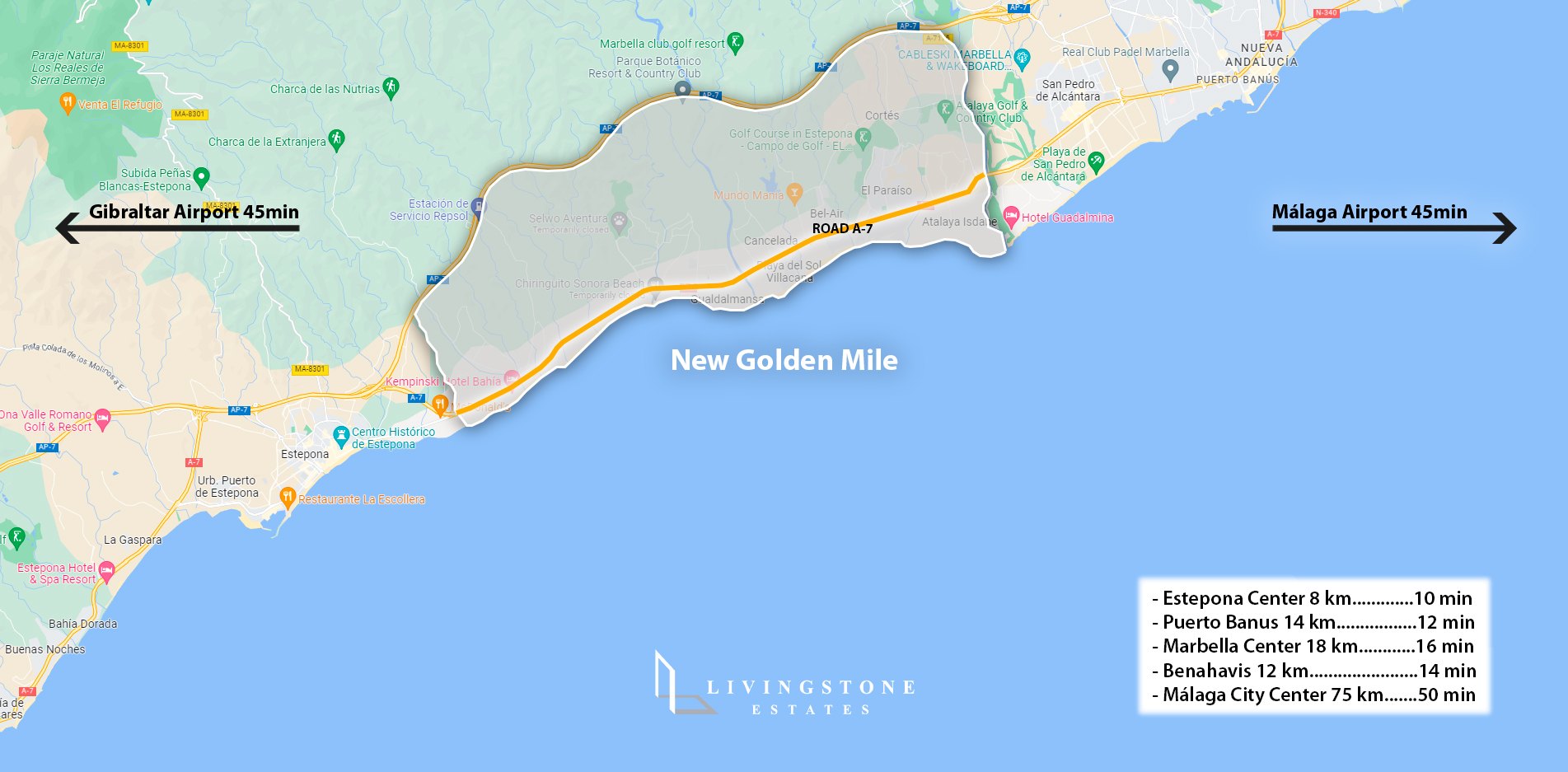 What size is Torre Bermeja?
Occupying a 30,000 square meter parcel overlooking the sea, Torre Bermeja encompasses 23 apartment blocks, complemented by 2 outdoor pools, expansive communal spaces, and striking tropical gardens. These 23 blocks collectively comprise a collection of 115 distinctive residences, the majority of which are graced with captivating sea vistas.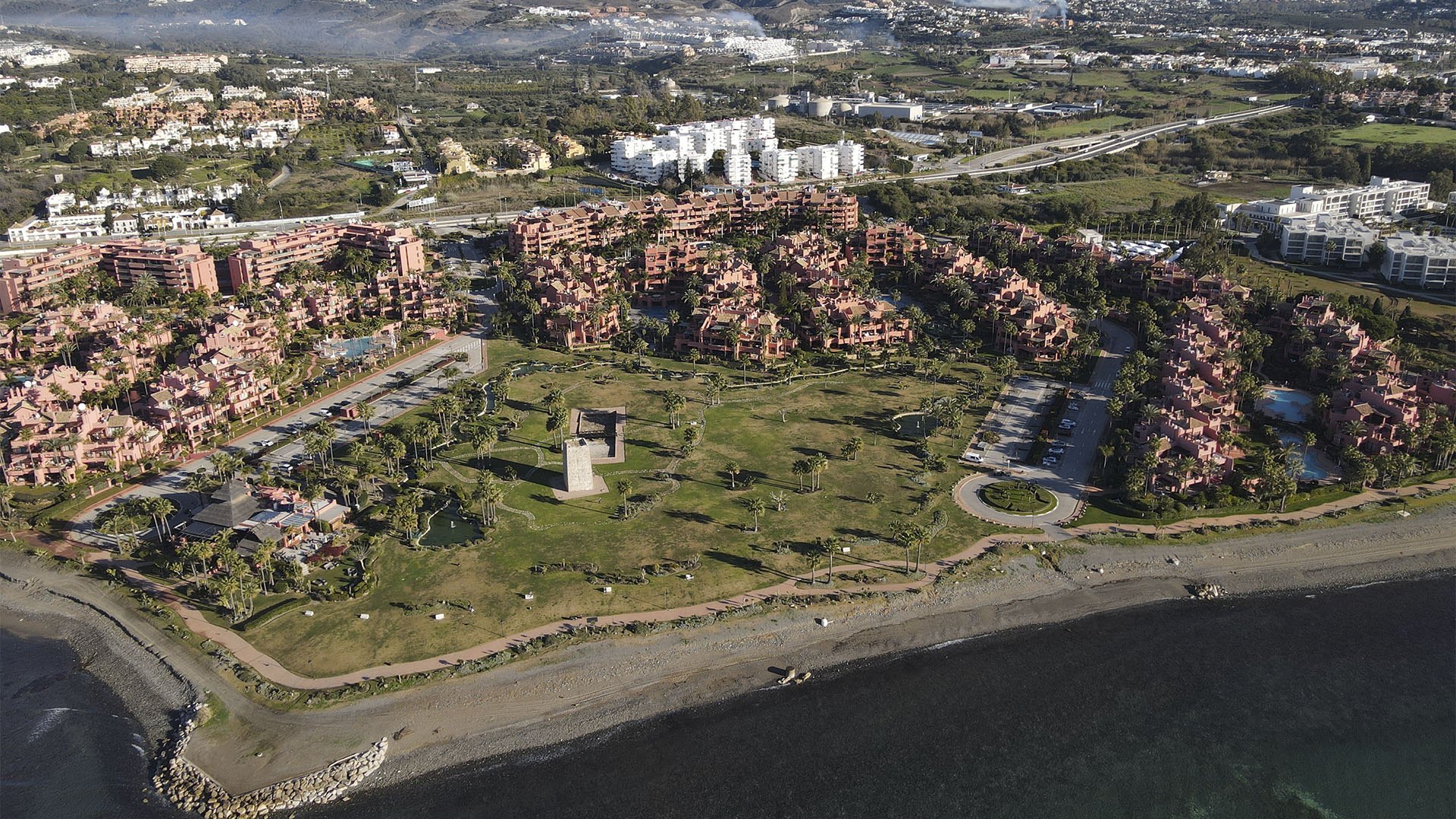 What types of apartments are there in Torre Bermeja?
2 Bedrooms Apartments
With an approximate area of 141m2, these apartments present an ideal synthesis of comfort and opulence. Upon entering, an inviting foyer guides you into a capacious living area where designer marble floors and sleek lines converge, accompanied by an adjacent dining section.
This space is elegantly framed by floor-to-ceiling terrace doors on one side, while an arch of grace ushers you towards the bedrooms.
Under the inviting shade of your sheltered terrace, there's no greater delight than savoring breakfast or lunch. Crafting delectable feasts is effortless in your fully-equipped kitchen, complete with an adjoining utility room.
Rejuvenate in the exquisite master bedroom, boasting a walk-in closet, an en-suite bathroom adorned with marble, a Jacuzzi, and a shower. Sliding doors provide access to the terrace, inviting in a breath of fresh air. The guest bedroom is equally equipped with its private bathroom and personal terrace.
For added convenience, these apartments feature storage space and a designated parking spot within the community garage.
3 Bedrooms Apartments
Spanning approximately 174m2, these expansive apartments house three bedrooms, three bathrooms, and an ample terrace (around 52m2) that offers a serene space for relaxation or hosting gatherings.
Upon entering the foyer, you'll find a generously proportioned living room that can be segmented into distinct zones or enjoyed as a harmonious whole. Glass doors seamlessly transition to a covered terrace, which boasts sufficient room for multiple relaxation corners catering to various family members.
The master bedroom opens onto the primary terrace, introducing an elegant bathroom adorned with an array of marble hues, featuring a massage bathtub and a walk-in shower. With underfloor heating, the allure of marble is complemented by cozy warmth during winter months.
Depending on their orientation, these residences provide views of the shimmering sea or the lush gardens and pools. Furthermore, these apartments are accompanied by their dedicated storage space.
3 and 4 Bedrooms Penthouses
The ultimate choice for those seeking a panoramic view of the sea. Combining the space of a detached house with the convenience of community living, these homes measure over 273m2 and have a 55m2 terrace, connected to the sizable high-beamed living room via sliding glass doors that let in floods of natural light.
Penthouses boast three or four bedrooms, bearing top-of-the-range materials and fitted wardrobes. The ensuite bathrooms are a sight to behold for those who love marble, since they are graced with various shades of this sturdy material – so appealing they turn spaces into a veritable work of art.
Underfloor heating and hot and cold air conditioning, as well as a home automation system, ensure you are comfortable throughout the year, while safety is ensured via 24 hour security and an alarm system. Keep the entertainment factor high in the second floor terrace, where you can relax in the Jacuzzi after preparing a barbecue for friends, who will love the magnificent view from this luxury penthouse.
Torre Bermeja Facilities.
Torre Bermeja boasts on-site amenities of an exceptionally elevated caliber, characterized by impeccable maintenance of communal gardens and facilities. Residents can indulge in a range of amenities, including:
Swimming Pools. Torre Bermeja offers residents swimming pools that can be used all year round. For the long months of summer there are 2 infinity outdoor swimming pools, one of which has a children's pool, located in phase one and phase two of the community. For the winter season Torre Bermeja has a magnificent indoor heated pool.
Spa & Fitness Facilities. 2 Spa areas are available for residents to use all year round, each with a sauna, shower facilities, changing area and a fully equipped gymnasium.
Beach Restaurant. In front of the development to the side of the archaeological site is the renowned Tikitano Restaurant. Tikitano offers an exquisite menu all year round in sumptuous interior surrounds during the winter months and a spending exterior terrace overlooking the sea in the summer months.
Landscaped Gardens. The Mediterranean gardens within which the development is set are very carefully looked after. At the front of the development there is a lawn park area with lakes and walkways that all lead down to the beach. The park is part of a 30,000 square meter protected archaeological site. There is direct access to both the park and beach from the development.
Connectivity. Wi/Fi is available throughout the complex both within apartments as well as in exterior communal areas and pool side. A selection of Sky, BBC and ITV channels are available in every apartment distributed by the community.
How much does it cost to buy an apartment in Torre Bermeja?
Determining the exact cost to buy an apartment in Torre Bermeja can be somewhat complex, due to the current fluctuations in the real estate market in the area and the high demand for properties in this urbanization.
The dynamic nature of the market conditions means that prices can vary, with factors such as property size, view, condition, and updates impacting the final price. Given this, providing a precise range for apartment prices in Torre Bermeja is challenging.
However, at Livingstone Estates, we have the knowledge and resources to navigate this ever-evolving market. Our extensive experience in Torre Bermeja's real estate landscape allows us to provide up-to-date information and advise you effectively, helping you make informed decisions about your potential investment.
If you are considering purchasing an apartment in Torre Bermeja and need detailed information about current prices and available properties, please do not hesitate to contact us at Livingstone Estates.
We are more than ready to assist you in finding the perfect home that aligns with your budget and lifestyle preferences while ensuring a seamless and enjoyable property buying experience.
Are you allowed to renovate your apartment in Torre Bermeja?
Yes, renovations are indeed allowed for apartments in Torre Bermeja, albeit with compliance to specific community guidelines to maintain the overall aesthetic and structural integrity of the urbanization.
At Livingstone Estates, we understand these rules in detail and can assist you with your apartment remodeling plans. Our services extend from the inception of your ideas right through to the realization of your renovated space. We offer guidance through every step of the renovation process to ensure your revamped home fits seamlessly within the Torre Bermeja community's guidelines and aesthetic.
So, with Livingstone Estates by your side, your journey to reinvent your home will be as smooth and rewarding as possible.
How long does it take to obtain a renovation license in Torre Bermeja?
Undertaking renovations in Spain, including in the desirable location of Torre Bermeja, requires a Minor Construction License (Licencia de Obra Menor). This permit, vital for conducting any construction work legitimately, must be acquired prior to initiating any works.
For properties in Torre Bermeja, which falls under the jurisdiction of Estepona municipality, the license needs to be requested at the Estepona Town Hall.
Once you submit the necessary documentation and everything is in proper order, the duration for acquiring the permit can vary. It can range from a swift 15 days to up to 3 months.
However, based on our experience at Livingstone Estates, the process is generally efficient and doesn't extend beyond a month. It is crucial to remember that this process forms an essential part of the renovation journey, ensuring your refurbished apartment not only meets your aesthetic goals but also complies with all legal requirements.
What documentation is required to obtain a Minor Construction License in Torre Bermeja?
To obtain a Minor Construction License (Licencia de Obra Menor) in Torre Bermeja to renovate an apartment, the following requirements must be met:
The homeowner or their legal representative must apply for the license.
The license must be requested at the Estepona Town Hall (Ayuntamiento).- The following documentation is required:

Application form from the homeowner or their legal representative.
Notarial deed copy.
CIF copy (if it is a company).
DNI / NIE / Foreigner Identification Number copy (if it is an individual).
Construction budget, broken down by items, with its measurement and price, signed by the interested party and/or competent technician.
Proof of payment of the Tax and Fee for the processing of urban licenses.
Certificate or cadastral information, or last receipt of the I.B.I.
Estimated residue evaluation sheet.
Does Torre Bermeja have sea views?
Torre Bermeja rests right by the shoreline, ensuring that a majority of its apartments offer unobstructed views across the Mediterranean Sea and Gibraltar, along with a breathtaking perspective of the striking Sierra Bermeja mountain range.
What is life like for children in Torre Bermeja?
Torre Bermeja Complex provides an idyllic setting for family life within a secure, gated community boasting 24-hour surveillance, ensuring peace of mind for families. The extensive on-site gardens present an inviting space for leisure and play, with the picturesque Guadalmansa Beach conveniently situated just a stone's throw away.
Strategically nestled between the vibrant cities of Estepona and San Pedro, residents of Bermeja Tower benefit from easy access to a broad spectrum of facilities and conveniences.
Additionally, the charming village of Benahavís is a mere 20-minute drive away, offering a multitude of outdoor pursuits, including trekking, rock climbing, natural pools, and basketball courts. Known for its rich culinary scene, Benahavís also boasts an array of excellent dining establishments for food enthusiasts to explore.
Schools near Torre Bermeja
If you're looking for a convenient location for your children's education, Torre Bermeja is an excellent choice. With easy access to the coastal road (N-340) and toll highway (AP-7), it is located near several renowned international schools. Just a 10 minute drive away, you can reach Atalaya International College, which is a school for children of all ages.
Colegio San José, a well-established primary school, only a 7 minute drive away. Laude San Pedro International College, which also caters to all ages, is a 12 minute drive away. Aloha College and Swans International School are 16 and 20 minutes away by car, respectively. The nearest public school, Cancelada, is just an 8 minute drive away. The closest one is the Atlas American School just 6 minutes away.
Is Torre Bermeja safe?
Torre Bermeja provides a protected, enclosed setting for residents. Continuous security is ensured around the clock, with surveillance cameras covering the premises from the central entrance gate where the security control center is situated. Both vehicle and pedestrian access points, along with apartment entrances, necessitate magnetic strip authentication.
Furthermore, each apartment is equipped with intruder and fire alarms linked to the central security office. For entry into the complex, all visitors are required to identify themselves at the security checkpoint.
Which is the leading agency in Torre Bermeja?
As the premier real estate agency in Torre Bermeja, Livingstone Estates stands at the forefront.
Our firm takes great pride in its deep-rooted historical connections, strategic location, and extensive property portfolio. Established by Vagn Trend Poulsen, the visionary behind Torre Bermeja and Cabo Bermejo developments, Livingstone Estates was conceived to exclusively market these two novel ventures in the early 2000s.
The agency's exceptional track record and profound understanding of the market have fostered unwavering confidence among both original and new property owners, solidifying its role as a trusted property partner in Torre Bermeja.
Strategically located within a 3-minute walk of Torre Bermeja, Livingstone Estates offers swift and personalized services, catering to the dynamic needs of buyers and tenants. This proximity positions the agency at the heartbeat of the local market, enabling rapid responses to shifts and developments in real estate trends.
Further enhancing its leading status, Livingstone Estates boasts the most extensive portfolio of properties for sale and rent in Torre Bermeja, offering a broad array of options to accommodate various preferences and budgets. This extensive property selection sets the agency apart, providing unmatched choices for prospective homeowners and tenants.
To summarize, Livingstone Estates emerges as the preeminent real estate agency in Torre Bermeja, distinguished by its storied legacy, prime positioning, and extensive property collection.
These facets collectively underscore why Livingstone Estates is the preferred destination for real estate within Torre Bermeja, cementing its position as the premier choice for individuals seeking properties in this locale.