Estepona's New Golden Mile refers to a prestigious stretch of coastline located on the Costa del Sol in southern Spain extending westward from the western edge of San Pedro de Alcántara to the beautiful town of Estepona, and while the term "Golden Mile" was originally associated with the luxurious area near Marbella, it is now also applied to this new area in Estepona due to its recent growth and development.
What is the New Golden Mile of Estepona?
The new Golden Mile of Estepona is a long promenade located in the western part of the city, near the marina of Estepona and the Guadalmansa area. This area has undergone significant transformation in recent years, with a focus on the development of luxury residential projects, services, and amenities.
Some highlights of the new Golden Mile of Estepona include:
Luxury residential developments: The area is experiencing a boom in the construction of exclusive residential complexes. These developments offer high-end properties such as luxury apartments and villas with modern designs, first-class services, and panoramic sea views.
Amenities and services: The new Golden Mile features a wide range of amenities and services to meet the needs of luxury residents and visitors. This includes gourmet restaurants, luxury spas, exclusive beach clubs, sports facilities, etc.
Beaches: The area also offers beautiful beaches with golden sands and crystal-clear waters, where you can enjoy the sun and engage in water sports.
Strategic location: The new Golden Mile of Estepona is located near iconic places such as Puerto Banús, Marbella, and Gibraltar. This provides easy access to a wide range of services and attractions, including renowned golf courses, shopping centers, restaurants, and a vibrant nightlife.
It is important to note that the term "New Golden Mile" is a commercial and marketing concept used to highlight the qualities and appeal of this developing area in Estepona.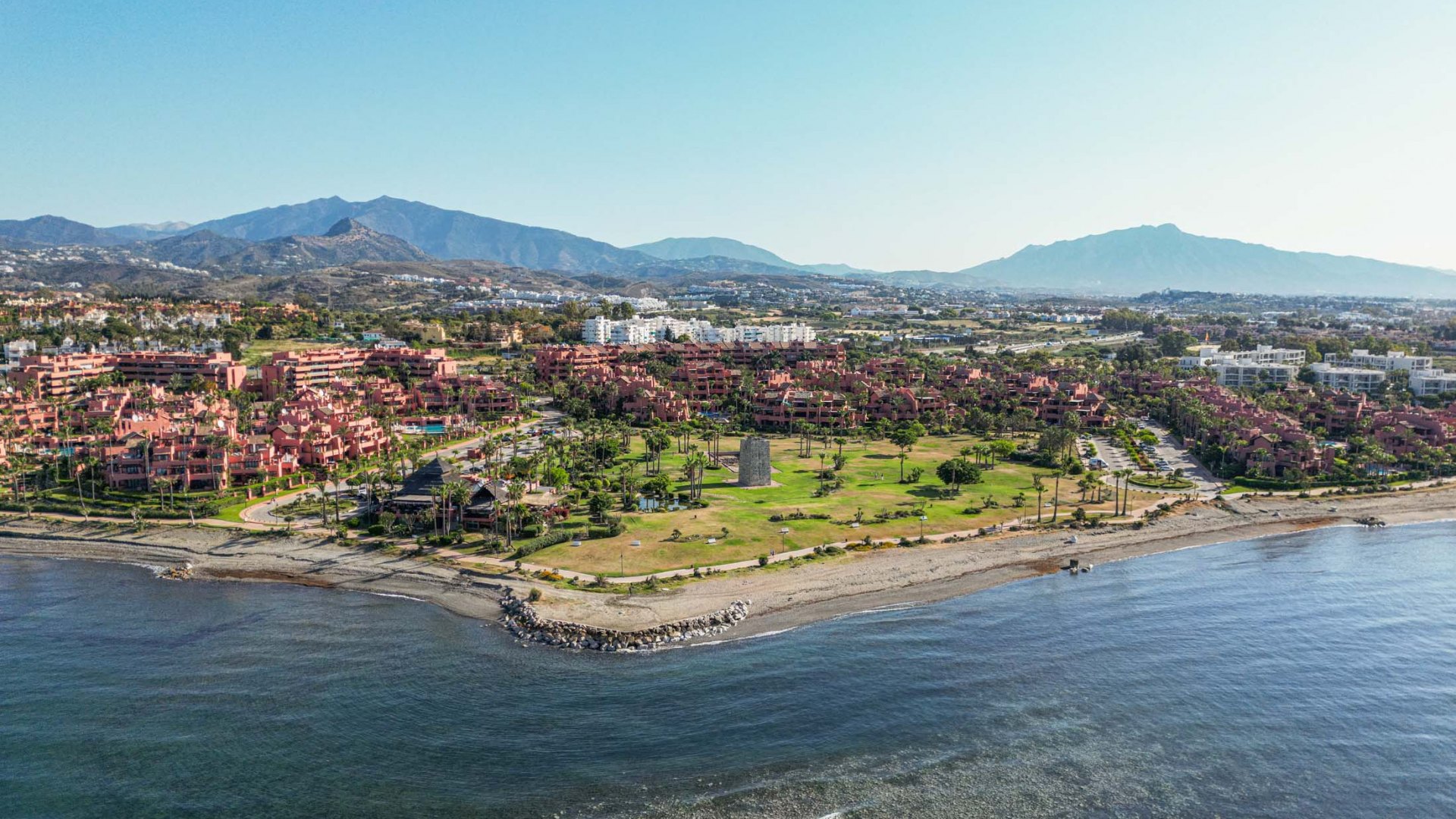 For the purpose of this Guide, we divide the New Golden Mile into these sub-areas:
Beach Side West
Beach Side Center
Beach Side East
Golf Side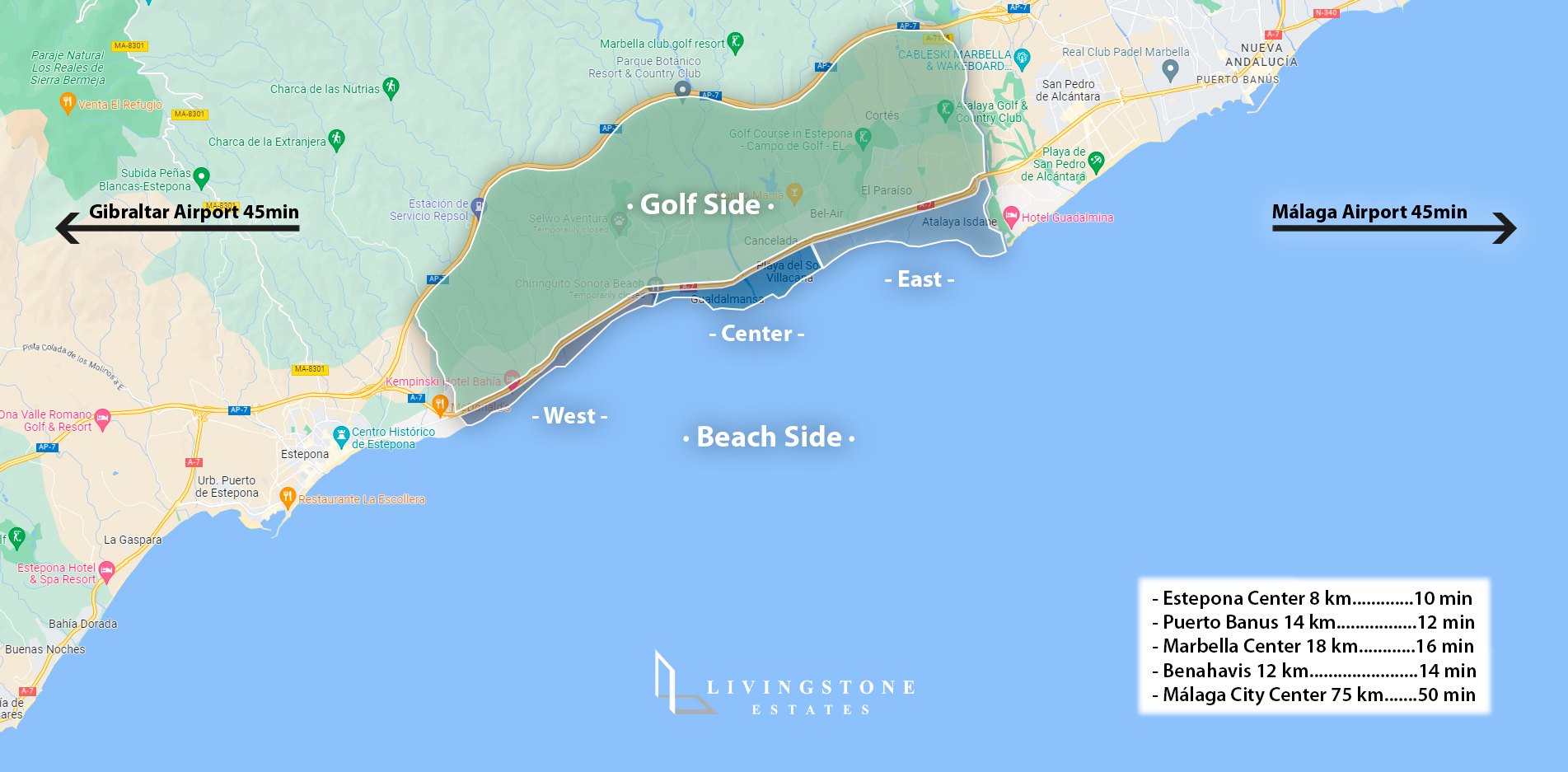 Where is the New Golden Mile of Estepona located?
The New Golden Mile in Estepona is located on the western side of the city, extending from the outskirts of Marbella to the eastern part of Estepona. It is primarily situated along the coastal area, running parallel to the Mediterranean Sea.
To be more specific, the New Golden Mile starts around the area of Guadalmina, which is close to San Pedro de Alcántara, and stretches towards the eastern part of Estepona, near the Kempinski Hotel Bahía.
The A-7 highway crosses it from end to end with several exits and changes of direction that facilitate access to any of its areas.
Some estimated distances from the New Golden Mile to other useful locations:
Estepona city center 8km (10min)
Benahavis 12km (14min)
Marbella city center 18km (16min)
Puerto Banus 14km (12min)
Gibraltar Airport 55km (45min)
Malaga Airport 70km (45min)
Malaga city center 75km (50min)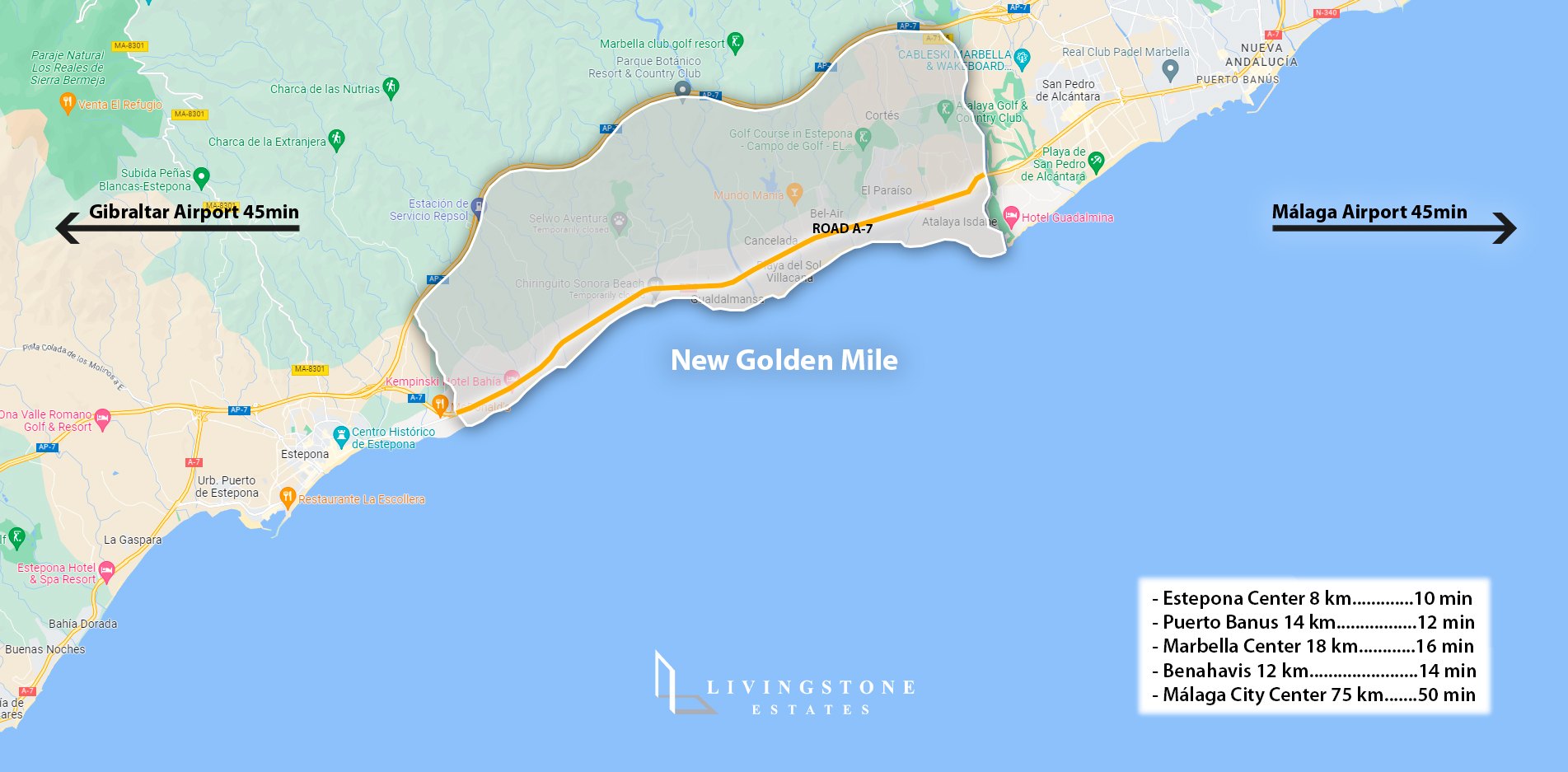 What is the history of the New Golden Mile of Estepona?
Although not an actual district, the term "New Golden Mile" was first coined by Costa del Sol enthusiasts that found similarity with its neighbouring Marbella Golden Mile.
While it's difficult to attribute the exact origin of the term, it is commonly used to refer to this area in Estepona due to its similarity in terms of high-end residential projects, services, and amenities.
This marketing concept has been widely used to emphasise the growth, luxury, and desirability of this particular area, which has been used since the 2000s around the same time the architect Melvin Villaroel and Vagn Trend Poulsen, the promoter of Torre Bermeja and Cabo Bermejo, along with the Estepona City Council inaugurated these promotion of brand new exclusive properties.
How many properties are there in the New Golden Mile of Estepona?
The New Golden Mile of Estepona covers a fairly extensive geographic area, but it is not considered as a district. Furthermore, there are diverse opinions regarding which areas are included in the New Golden Mile of Estepona, as it encompasses not only independent villas or townhouses but also more than 50 gated communities, urbanizations, and apartment complexes solely on the beach side.
Therefore, it is extremely difficult to determine the exact number of properties that make up the New Golden Mile of Estepona.
What style of houses/developments can you find in the New Golden Mile of Estepona?
On the Beach side:
East: This area is characterized by a large number of independent villas, many of them located right on the beachfront, with a variety of architectural styles. However, there are also numerous apartment complexes in the area.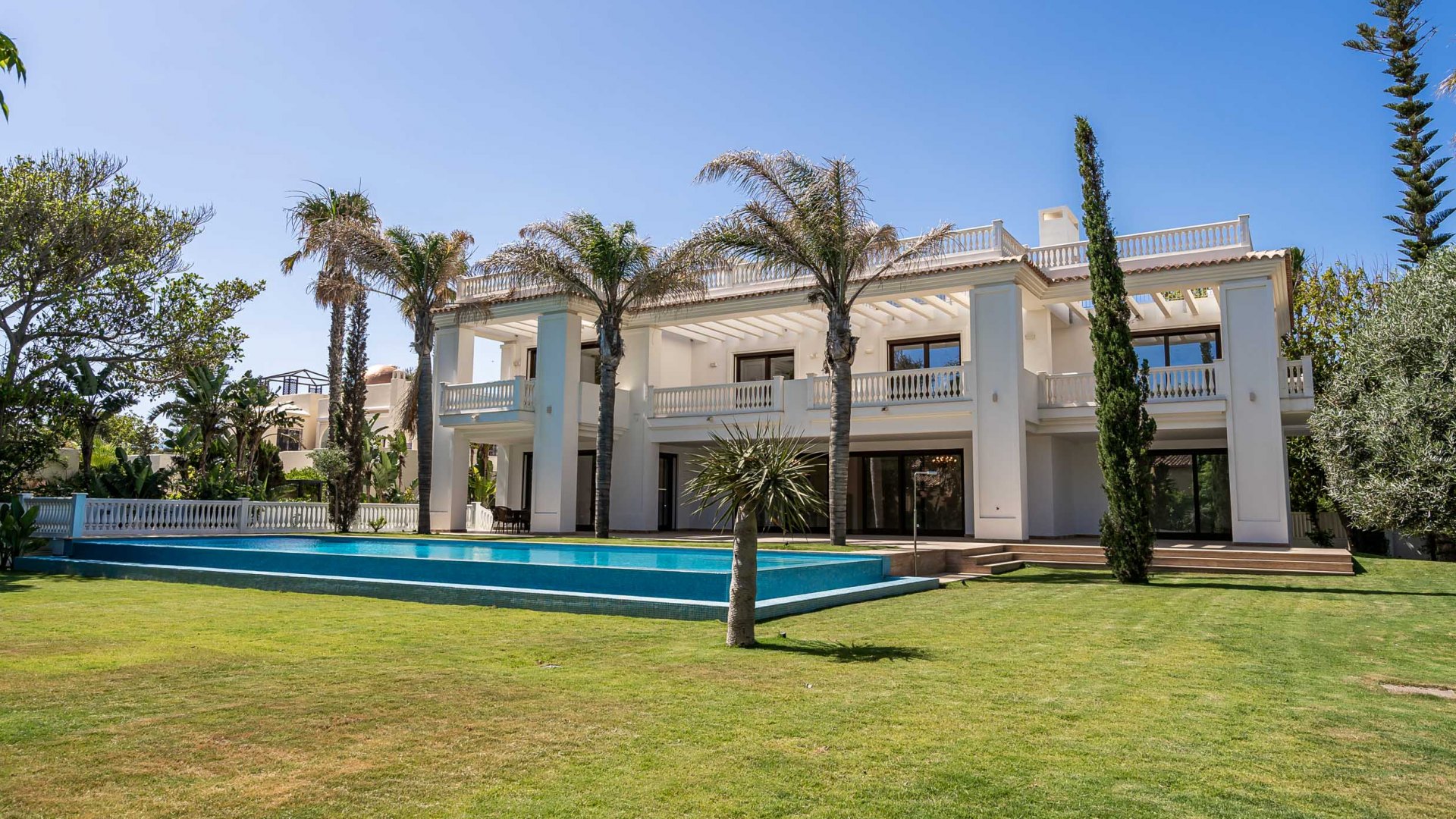 Center: There are mainly luxury apartment complexes, with a prominent Mediterranean style and the terracotta color of exclusive complexes such as Cabo Bermejo, Torre Bermeja, and Menara Beach.
West: Apartment complexes are predominant in this area, although there are also townhouse developments like El Velerín and some villas in complexes like Velaya. There are several newly built urbanizations with modern architecture.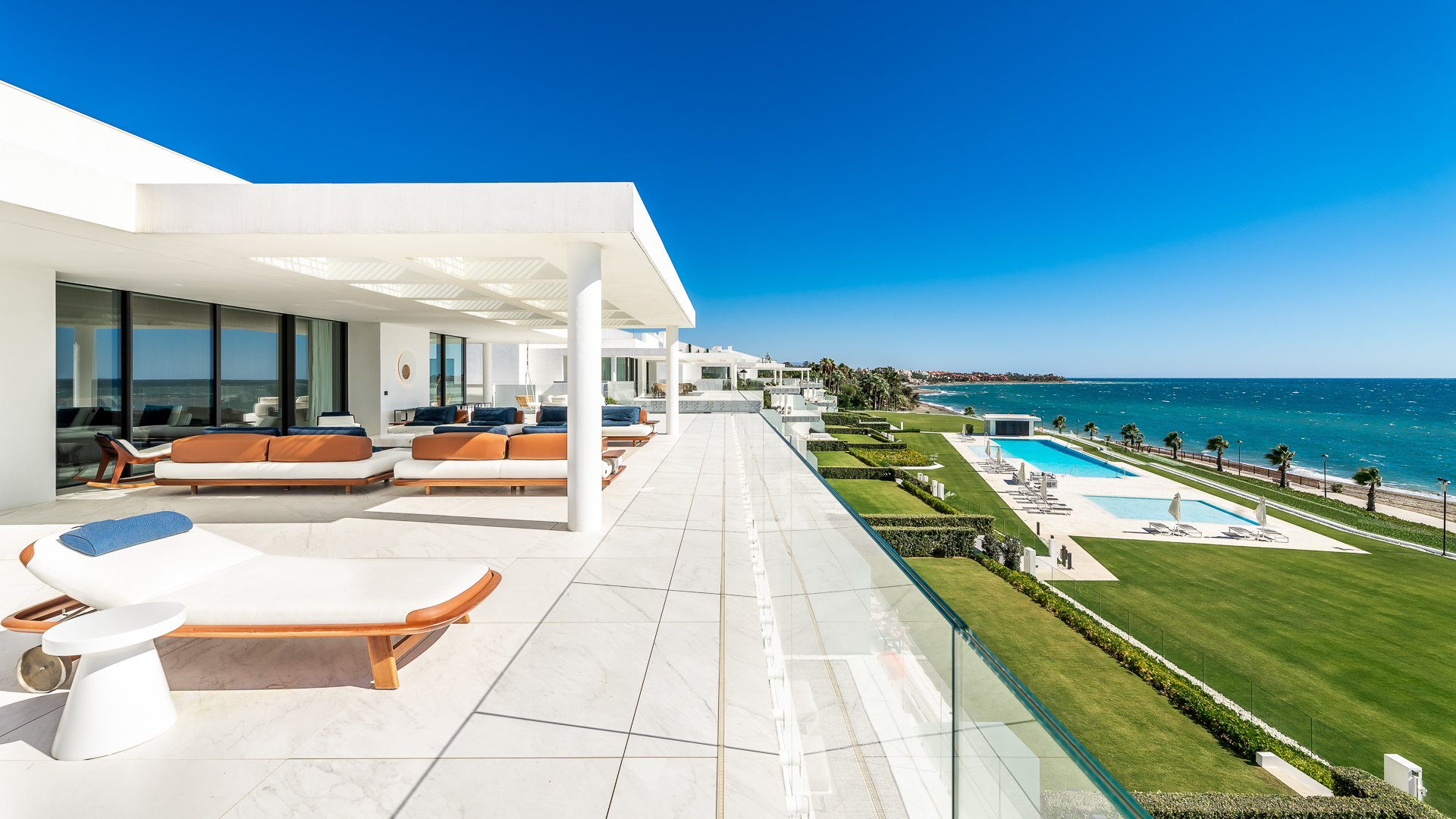 On the Golf side:
There is a bit of everything, from apartment complexes to mega mansions in Los Flamingos. In this area, there is an increasing number of newly constructed urbanizations with a modern style, such as the Belaire and Oasis 325 complexes.
In the gated community of Los Flamingos Golf, you can find numerous single-family villas with varied architectural styles, ranging from Andalusian-style villas to contemporary and very modern villas.
Today, many owners of apartments built in the early 2000s are choosing to renovate their homes, giving them a more updated style to suit modern tastes. However, the renovations are not just focused on updating the style but also, in many cases, on redistributing spaces and making the most of them.
How much does it cost to buy a property in the New Golden Mile of Estepona?
The New Golden Mile of Estepona is an area with a wide range of housing options suitable for any budget, which creates a broad price range and, in turn, higher demand. However, it is essential to consider that in certain areas, properties tend to be at the higher end of the price range in Estepona's market.
Additionally, the price of the property largely depends on its location within the New Golden Mile. According to the current market, there is a price range of €150,000 - €20,000,000.
On the Beach side:
The central area occupies the most prestigious location (Guadalmansa), encompassing frontline properties and those close to the N-340 road. Properties in this area generally range in price from €300,000 to €6,000,000, depending on the urbanization and type of property (penthouse, ground floor, etc.).
Furthermore, property prices can vary depending on their proximity to the beach and the views they offer. Generally, the closer to the coast and the better the sea views, the higher the price.
Some of the most exclusive urbanizations in this area include Torre Bermeja, Cabo Bermejo, and Las Dunas Park. These urbanizations have the highest-priced apartments in the central area of the New Golden Mile of Estepona.
The West area offers a greater variety of apartment complexes. Property prices here fluctuate greatly, with homes on the market typically ranging from €200,000 to €8,000,000, depending on the location, complex, property type, and year of construction.
However, there is currently a house on the market with higher prices; for example, a villa under construction in this area is listed for €14,000,000, illustrating the distinguished location and the variety of properties.
The East area hosts a greater number of villas and the most grandiose mansions in the New Golden Mile. Prices in this area range from €150,000 to €18,000,000. However, apartments generally cost between €150,000 and €1,000,000, while villas can range from €800,000 to €18,000,000, with beachfront properties starting from €5,000,000.
The price range varies significantly as it covers an extensive area and encompasses a wide range of properties, from apartments to mansions.
The Golf side covers the largest land area, resulting in a wider price range, ranging from €90,000 to €20,000,000 for apartments and villas.
The price mainly depends on the location and views of the property. The complex with the highest prices is Los Flamingos Golf, which is home to the prestigious Anantara Villa Padierna Palace hotel.
Within this complex, you can find the most luxurious villas and mansions of the New Golden Mile, with prices ranging from €2,000,000 to €20,000,000.
How much does it cost to buy a plot of land in the new Golden Mile of Estepona?
The New Golden Mile of Estepona comprises an extensive area and is not a district in itself, resulting in a wide range of prices for plots. It's important to keep in mind that this is just an estimation.
The cheapest you can find in the New Golden Mile area of Estepona would be around €120 per square meter of land, and it can go up to €770 per square meter of land.
Currently, the minimum price for a plot is €135,000, which is equivalent to €192 per square meter for a 725 m2 plot. However, this is located in a less exclusive area of the New Golden Mile of Estepona.
This is likely the cheapest plot you can find in the Marbella Golden Mile. The most expensive plot is priced at €7,786,000 in La Resina. On average, a plot in an exclusive location on the New Golden Mile costs around €450 per square meter.
The price is always subject to the location and views of the plot on the New Golden Mile. Currently, there is only one plot for sale located in the second line.
Does the New Golden Mile of Estepona have sea views?
Properties on the beach side are literally by the sea. The urbanizations are spread along the coastal path, with the beach and the Mediterranean Sea as their garden.
Mountain views are also prominent in the New Golden Mile of Estepona, as many properties have direct views of both the sea and the mountains.
Additionally, properties enjoy daily views of Gibraltar and parts of the African continent, adding a unique sensation to the New Golden Mile of Estepona.
The Golf side is located at a higher elevation above sea level, which allows for many cases of direct sea views depending on the property's location and orientation.
The panoramic sea views are exceptional. Some areas even offer views of Gibraltar, Africa, and an impressive panoramic view of the coast of the New Golden Mile of Estepona.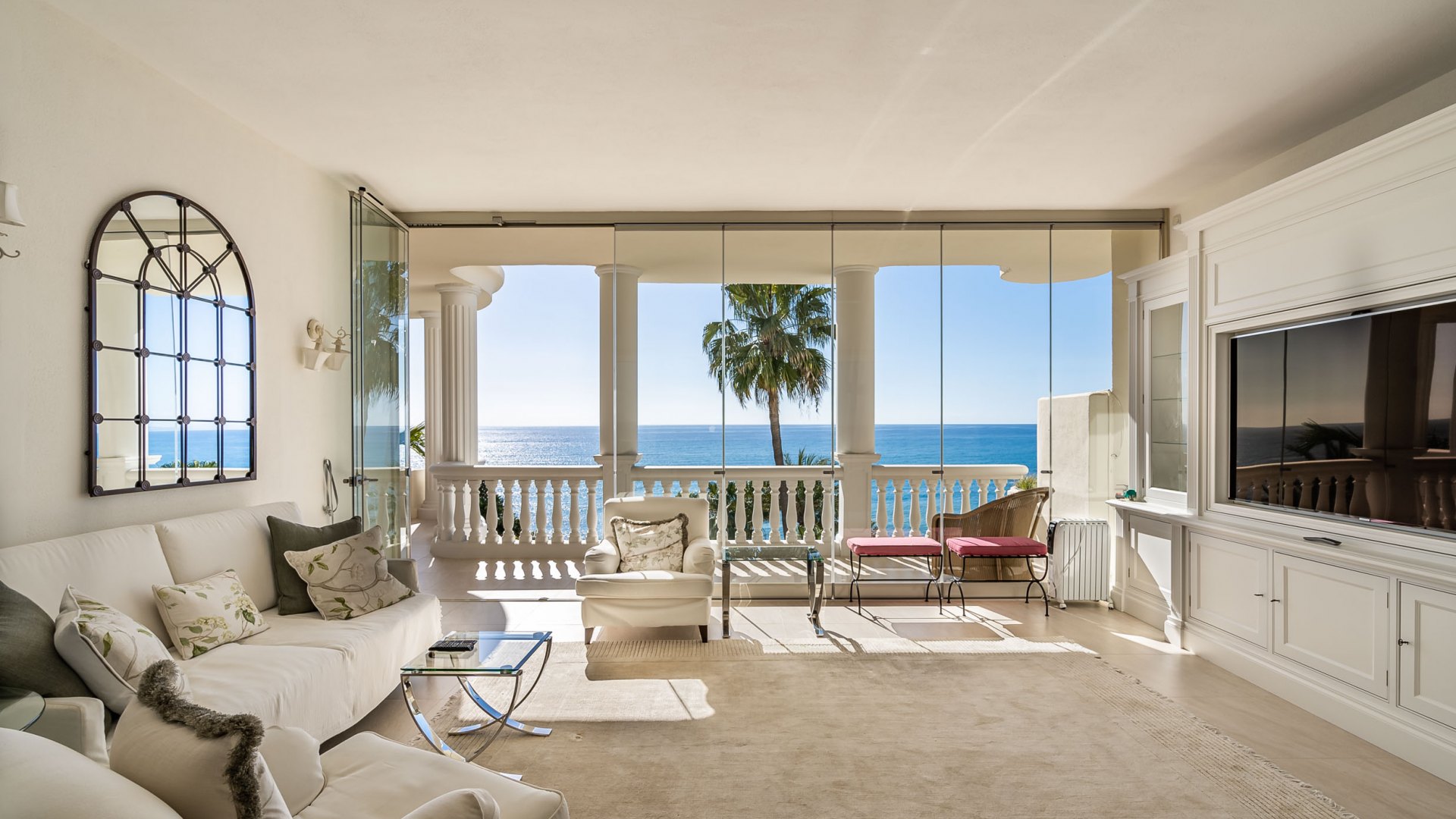 Is the New Golden Mile of Estepona a popular place to live?
The New Golden Mile of Estepona is a highly sought-after location due to its proximity to all amenities.
Living in this privileged area allows you to be in the center of the action and enjoy all the beauty that Estepona has to offer, which attracts numerous home buyers. Additionally, being a zone very close to the beach, its popularity is continually increasing.
A notable feature of the Golden Mile is its excellent coastal path, which promotes walking and cycling while being directly connected to the National Highway 340 and A-7, allowing easy car access to any point on the New Golden Mile.
This combination ensures excellent mobility and optimal connectivity, which is a crucial factor when searching for a home to buy.
Things to do in the New Golden Mile of Estepona?
You will be amazed by the number of options available when it comes to golf, with three renowned courses on the New Golden Mile.
Los Flamingos Golf (an 18-hole, par 71 course with views of the Mediterranean), Atalaya Golf & Country Club (with two 18-hole courses, par 72 and 71, with views of La Concha mountain and the Mediterranean), and Real Club de Golf Guadalmina (with two 18-hole courses, par 72: Guadalmina Sur is known for its difficulty, while Guadalmina Norte is shorter but challenging in terms of shape and water structures).
Experienced golfers looking to expand their horizons can always head to Finca Cortesín (ranked as one of the top 5 courses in Spain by Golf World Magazine) or Alcaidesa Golf Resort (a golf paradise surrounded by the golf courses of Sotogrande and Valderrama), both just a 15-minute drive from Estepona.
After a long day on the golf courses, nothing is more appealing than relaxing in a spa, and the New Golden Mile is home to some of the most exclusive ones in southern Spain.
The Spa Villa Padierna, located in a stunning Tuscan-style palace and winner of the Best Spa Wellness Spa Experience award in 2017, will transport you to another world, away from the stresses of daily life.
Options for health and wellness are abundant; Healthhouse Las Dunas is a five-star beachfront resort with an impressive spa that features a stunning thermal area, sensation showers, Vichy showers, steam baths, and more.
The resort is famous for its wellness programs (lasting from seven to 21 days or more) as well as its specific anti-aging, anti-stress, and anti-smoking therapies.
Discover one of the most sought-after 5-star hotels on the New Golden Mile right now: the Ikos Hotel. Located on the shores of the Spanish Mediterranean, Ikos Andalusia offers a world of experiences for guests of all ages.
From beach days and mountain bike routes to spa days and water adventures, everything is included at Ikos.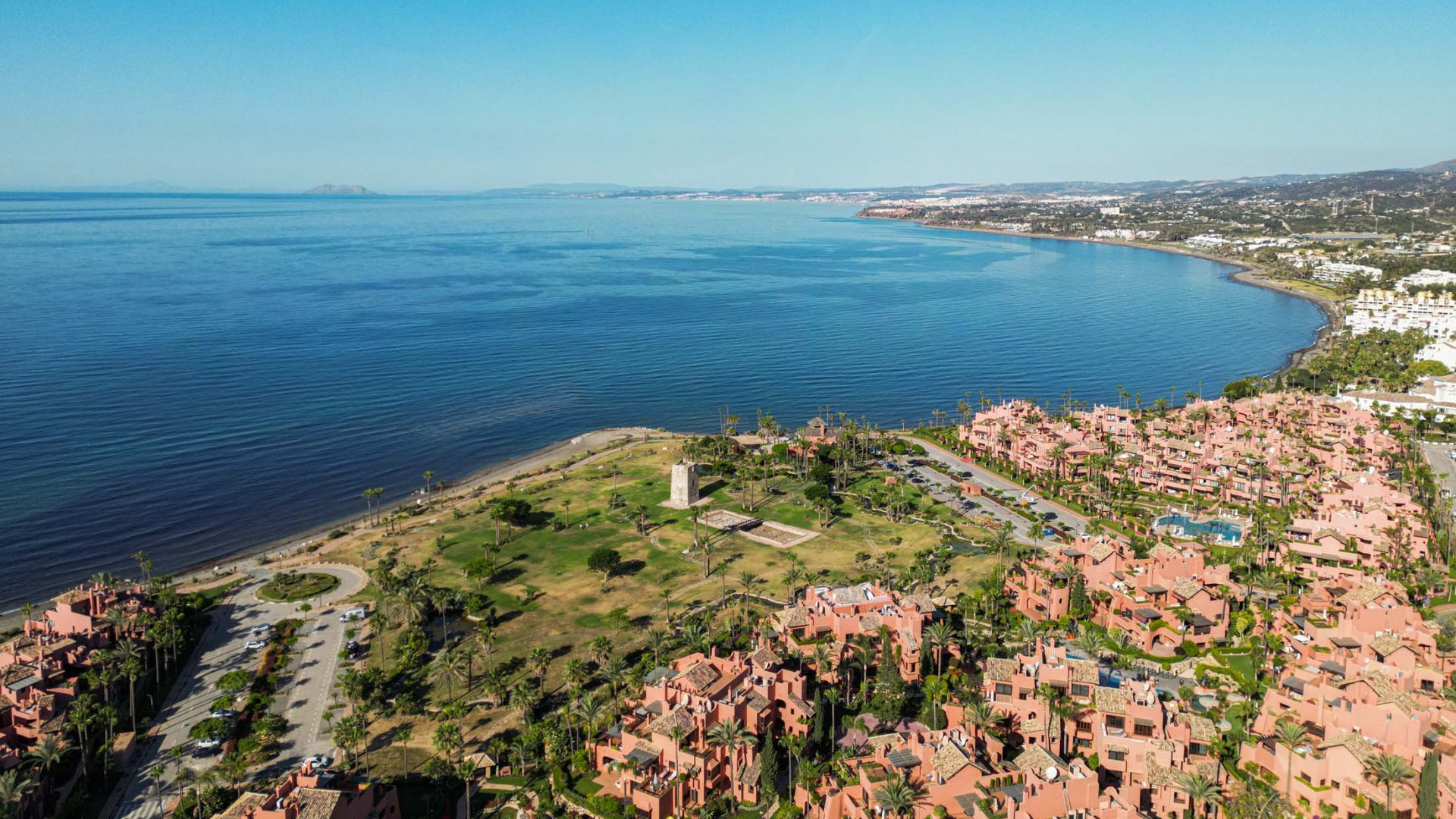 What medical services are available in the New Golden Mile of Estepona?
If you are considering moving to Estepona, it is essential to familiarize yourself with the local healthcare system.
Spain is known for its excellent and affordable healthcare, so understanding the ins and outs of the healthcare system can be particularly beneficial.
Not only will you be able to enjoy the luxurious resorts and excellent golf courses in the area, but you will also have access to a diverse cultural scene and high-quality medical services offered in Estepona including a wide range of hospitals and clinics, such as Hospiten, Clinica del Rio and Cenyt Hospital or the recently built Estepona High Resolution Hospital is equipped with the most advanced technology and services.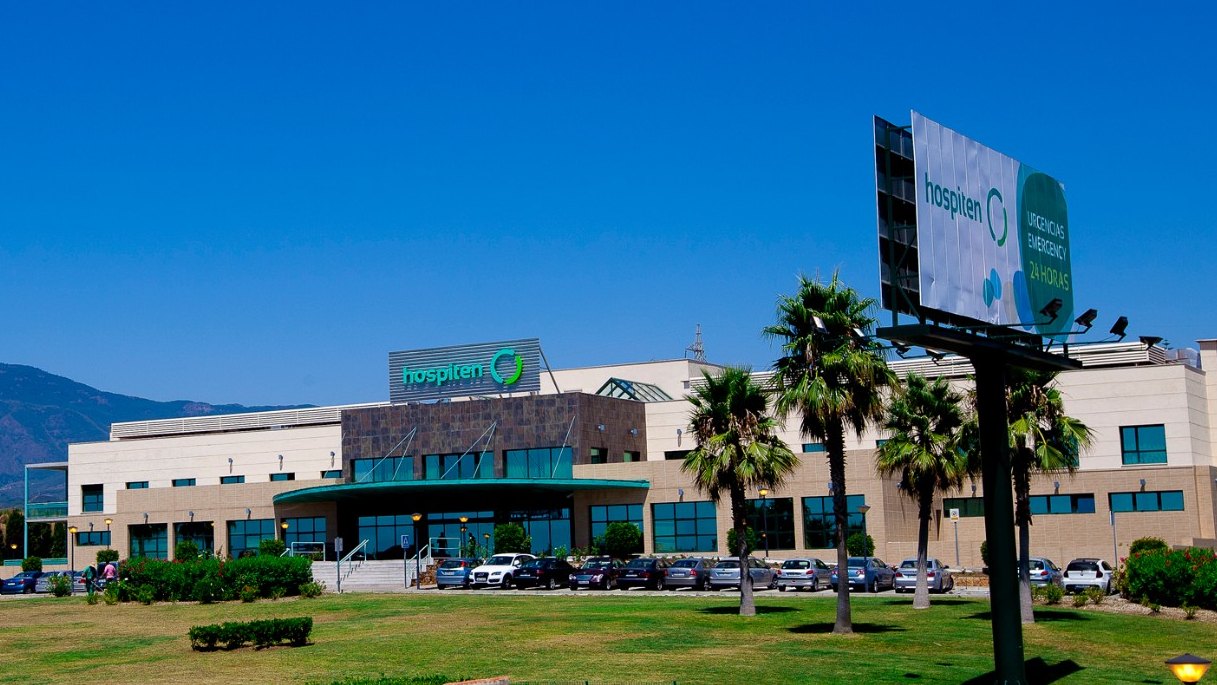 Schools in the New Golden Mile of Estepona
The Costa del Sol, and more particularly the New Golden Mile sounds like the perfect location for a holiday home, we cannot forget this can also be considered a long year permanent house to raise a family, with a vast options for preschool, such as Cancelada Children's Place- and some of the top private international schools like, Atalaya International School, Atlas American School, Colegio San Jose, International School of Estepona among others.
The public schools are also found closeby, and although they follow a Spanish education system, the truth is, the children will also be among an international group of students given the multicultural nature of this area- Sierra Bermeja or CEIP Ramon Lago Cancelada are honorable mentions in this list which should also be included when thinking about possible schools for your little ones.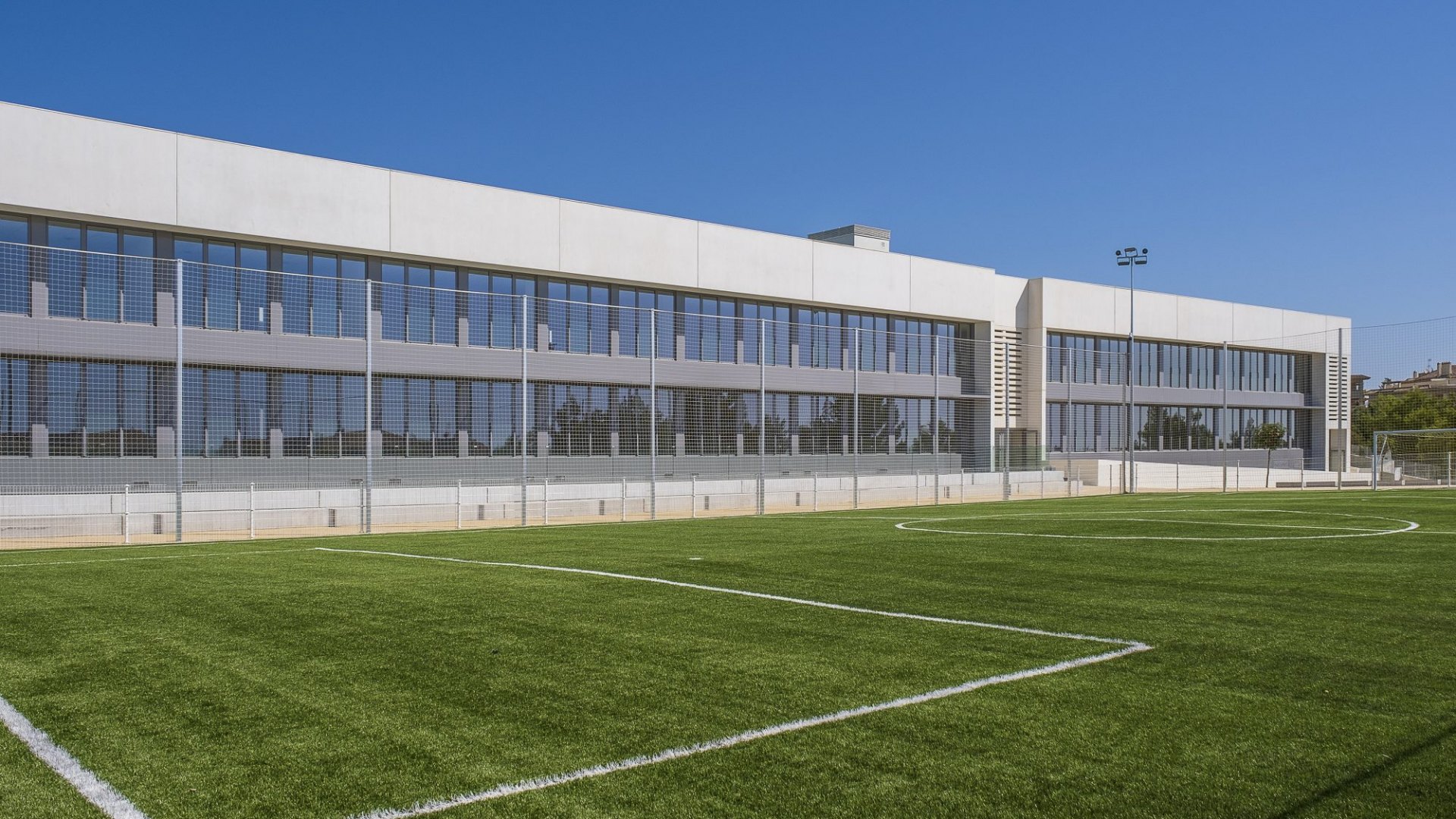 Is the New Golden Mile of Estepona a safe area?
Given that the New Golden Mile of Estepona is located just minutes away from the center of Estepona, there are several police stations in the area.
In fact, there is a local police station in Cancelada, right in the center of the New Golden Mile, ensuring quick and efficient assistance in case of emergencies. Additionally, both local and national police regularly patrol the New Golden Mile.
Generally, the most exclusive developments in the New Golden Mile of Estepona are gated communities with their own security personnel patrolling 24 hours a day. They also have advanced CCTV surveillance systems and access controls in place.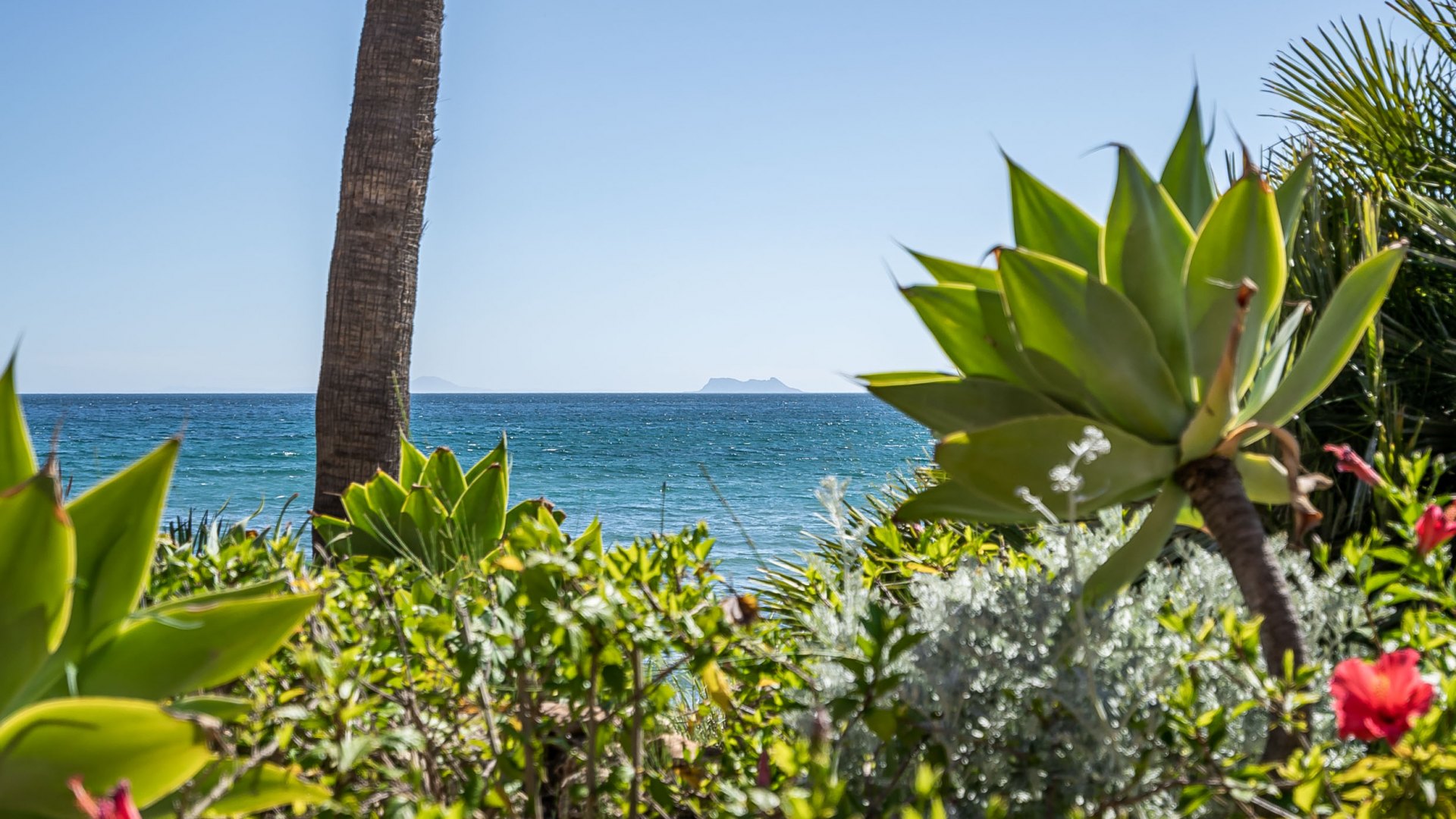 Which is the leading agency in the New Golden Mile of Estepona?
Livingstone Estates is the number one agency in Estepona and the New Golden Mile, with over 20 years of experience assisting clients in buying and selling properties.
Livingstone Estates is the leading sales agency in the New Golden Mile, currently offering over 100 properties for sale in the area, ranging from luxurious beachfront apartments to beautiful villas.
We are here to assist you in your search and ready to guide you step by step in your buying or selling process.